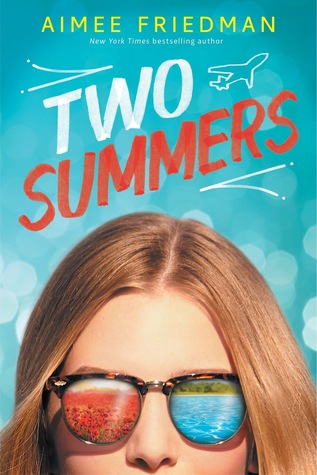 Title:
Two Simmers
Author:
Aimee Friedman
Publisher:
Point
Format:
Paperback ARC
Pages:
368 pages
Expected Publication:
April 26th, 2016
ISBN #:
0545518075
ONE SUMMER in the French countryside, among sun-kissed fields of lavender . . . ANOTHER SUMMER in upstate New York, along familiar roads that lead to surprises . . . When Summer Everett makes a split-second decision, her summer divides into two parallel worlds. In one, she travels to France, where she's dreamed of going: a land of chocolate croissants, handsome boys, and art museums. In the other, she remains home, in her ordinary suburb, where she expects her ordinary life to continue — but nothing is as it seems. In both summers, she will fall in love and discover new sides of herself. What may break her, though, is a terrible family secret, one she can't hide from anywhere. In the end, it may just be the truth she needs the most. From New York Times bestselling author Aimee Friedman comes an irresistible, inventive novel that takes readers around the world and back again, and asks us what matters more: the journey or the destination.
Let me start off by saying how excited I was when I received this ARC, I knew exactly when I wanted to read it and couldn't wait to get to Florida and Spring Break to do so. I'm so glad I waited to do so, mainly because it was the perfect vacation read. Two Summers is a story about a girl who had two different paths should could have taken and this wonderful book shows how her summer would have played out with each path. In this book it shows that making a split decision can alter all the events to come. All Summer did was either answer a phone call or not answer that phone call. That was all that it took to change her course.
In the end Summer still finds out a huge piece of information that ends up changing her life, no I'm not going to give what it was away, but you as the reader pretty much get to see how she handles it in both perspectives. I really enjoyed the writing style, author Aimee Friedman wrote a complex story that drew me in right away, one where I couldn't wait to read the next chapter just to see what was going to happen to Summer.
Another thing that I really enjoyed about this book is that it took some real life situations and showcased them in a way that it felt real. The author didn't sugar coat them and to me that makes Two Summers as amazing as it is.
My only complaint about Two Summers is one that I have a lot when reading and that is that it ended. I wanted to know more, I wanted to know how the relationships that she either built or had tumbled and almost crashed continued to grow. The way the author ended the story though was fantastic. I have to say that I would, if given the chance to pick, I would have wanted her to stay where she was and take the class. That story line really appealed to me. (Again I'm not giving anything away. No Spoilers on this blog.)
I highly recommend Two Summers by author Aimee Friedman, it's being released today and I hope you all go get your copy. Especially those that like the contemporary light reads. It's a perfect story to read this summer!
So seeing as I've pretty much sung this books praises, I'm pretty sure you can guess what kind of rating I'm going to be giving Two Summers.
I hope you all go get your copy of this book and I want to thank Scholastic INC and Point for sending me this ARC to review.
Here at Ali's Bookshelf we accept books in exchange for a honest review. The book above came from the publisher. We also use Book Depository Affiliate links at times.