It is time for another add to my bookshelf! I have a great new book and I am dying to read it. It's been awhile since I've posted one of these so here's a little explanation. The inspiration for this post is from My Reading Pile, she gave me permission to make my own and I have. Thanks again for letting me do these types of posts.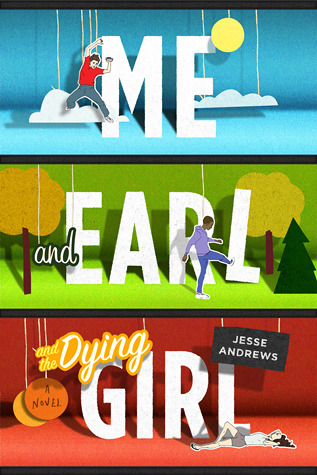 Greg Gaines is the last master of high school espionage, able to disappear at will into any social environment. He has only one friend, Earl, and together they spend their time making movies, their own incomprehensible versions of Coppola and Herzog cult classics. Until Greg's mother forces him to rekindle his childhood friendship with Rachel. Rachel has been diagnosed with leukemia—-cue extreme adolescent awkwardness—-but a parental mandate has been issued and must be obeyed. When Rachel stops treatment, Greg and Earl decide the thing to do is to make a film for her, which turns into the Worst Film Ever Made and becomes a turning point in each of their lives. And all at once Greg must abandon invisibility and stand in the spotlight.
WHERE I HEARD ABOUT THIS BOOKS...
I heard about this book all over to book blogger universe. I also heard about it because it's becoming a movie. Saw it at Walmart and had to have it on my shelf and to read.
WHY I'M ADDING IT?
I've heard nothing but good things about this one. Plus the summary sounds amazing. I can't wait to read this one.
WHEN I'M GOING TO BE READING THIS BOOK?
Read the summary, doesn't that make you want to read this book? I know it does for me. It's one of those books that I had to have and to read. I haven't had a book grab me like that in awhile.
What Are Your Thoughts On This One?
So have you read this one yet? Is it on your TBR? I really want to know your thoughts about it. Should I move it up my list and read it as soon as I can? HELP! I think I might read it in July, but not sure yet.
As always...