This meme started with J Kaye's Blog and then was taken up by Sheila from
Book Journey.
Sheila then passed it on to Kathryn at the
Book Date
. It's a meme where you share what you read last week, what you're currently reading and what you plan on reading that week.
I know I haven't been around here on the blog recently and I really hate that. I've missed sharing with you all and chatting about books. One of my goals this summer is to get back into this and hopefully bring some joy back into reading for myself.
This Week I Plan To Read:
I finished the first book in this series a few months ago and can't wait to read this one.
New York Times bestselling author Brenda Novak welcomes you to Silver Springs, a picturesque small town in Southern California where even the hardest hearts can learn to love again

Struggling to make ends meet after a messy divorce, Sadie Harris is at the end of her tether. Her waitressing gig isn't enough to pay the bills let alone secure primary custody of her son, Jayden, a battle she refuses to lose. Desperate, she accepts a position assisting Dawson Reed the same Dawson Reed who recently stood trial for the murder of his adoptive parents. Joining him at his isolated farm seems risky, but Sadie is out of options.

Dawson has given small town Silver Springs plenty of reasons to be wary, but he's innocent of the charges against him. He wants to leave his painful past behind and fix up the family farm so he can finally bring his dependent sister home where she belongs.

As Sadie and Dawson's professional relationship grows into something undeniably personal, Sadie realizes there's more to Dawson than the bad boy everyone else see she has a good heart, one that might even be worth fighting for.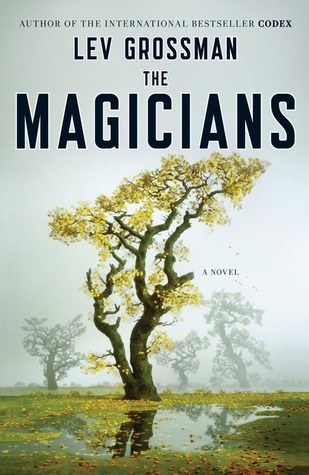 I've been dying to get my hands on this book and read it and the last time I was at the bookstore I finally picked it up.
Like everyone else, precocious high school senior Quentin Coldwater assumes that magic isn't real, until he finds himself admitted to a very secretive and exclusive college of magic in upstate New York. There he indulges in joys of college-friendship, love, sex, and booze- and receives a rigorous education in modern sorcery. But magic doesn't bring the happiness and adventure Quentin thought it would. After graduation, he and his friends stumble upon a secret that sets them on a remarkable journey that may just fulfill Quentin's yearning. But their journey turns out to be darker and more dangerous than they'd imagined.
My list this week and for the next several weeks will probably be small, but I want to get back into the swing of things and enjoy reading again. So I hope you all have a great week and Happy Memorial Day to those in the USA!