Today I'm so thrilled to share my thoughts with you about a great book called Hello Stranger by Lisa Kleypas.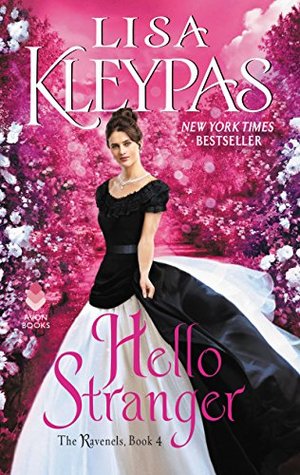 Hello Stranger by Lisa Kleypas
Published:
February 27th 2018
Challenges:

Goodreads Challenge
Read Date:

March 16th 2018
A woman who defies her time

Dr. Garrett Gibson, the only female physician in England, is as daring and independent as any man—why not take her pleasures like one? Yet she has never been tempted to embark on an affair, until now. Ethan Ransom, a former detective for Scotland Yard, is as gallant as he is secretive, a rumored assassin whose true loyalties are a mystery. For one exhilarating night, they give in to their potent attraction before becoming strangers again.

A man who breaks every rule

As a Ravenel by-blow spurned by his father, Ethan has little interest in polite society, yet he is captivated by the bold and beautiful Garrett. Despite their vow to resist each other after that sublime night, she is soon drawn into his most dangerous assignment yet. When the mission goes wrong, it will take all of Garrett's skill and courage to save him. As they face the menace of a treacherous government plot, Ethan is willing to take any risk for the love of the most extraordinary woman he's ever known.
First off, like always this will be a spoiler free review. If I'm being honest, I don't usually read this genre, though I must say I loved this book! Though there were a few things that bothered me, I really enjoyed reading the story. I've never read anything by this author, so this was really new to me and I was suprised at how much I enjoyed it. I had been told for awhile now that this authors books are fantastic and had added her to a list of authors to read. I'm so glad I finally got a chance to do so.
The plot of this story is what really drew me in, yes it's not historically accurate in a few things, but even though it's not I still loved it. I was drawn right away to how strong the main character is and how she carried herself even in the first few paragraphs. I must say I didn't see a lot of the things happening that did in this story, which again I loved!
I wasn't expecting how romantic this book was though, I must say it was a bit much at first, but I got used to it. The other thing I really didn't like was the ending, it felt too perfect for my tastes, but then again it's not so bad that it took away from the story itself.
Another suprising part of this book was the funny bits that I didn't expect at all. The main character has her flaws but who doesn't and that just made her even more real to me. Just another draw for this fanastic book. I can't wait to read another book from this great author.
Over all this book is one that drew me in right away and I couldn't put it down. I want to read more from this author and from this genre now, which is something I didn't expect!
Here at Ali's Bookshelf we accept books in exchange for a honest review. The book above came from the publisher through Netgalley. We also use Amazon Affiliate links at times