I haven't posted one of these posts in a long time. Actually I looked it up the last one was in 2015! I think it's time to bring this post back. Another Addy To Ali's Bookshelf is another way for me to showcase the books I recieve for review or the books I buy to add to my collection.

The inspiration for these posts come from a great blogging friend, she used to blog under the blog My Reading Pile, sadly she isn't blogging from there anymore. She did give me permission to make my own post like her's. So here we go!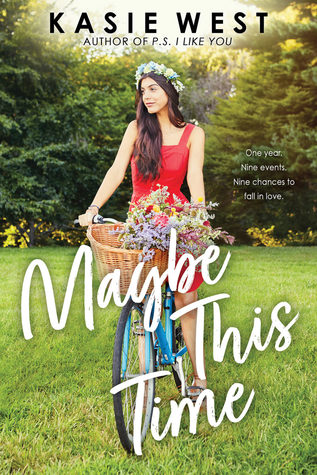 Maybe This Time by Kasie West
Published: July 9th 2019
Publisher: Point
Format: Harcover
One year. Nine events. Nine chances to . . . fall in love?

Weddings. Funerals. Barbecues. New Year's Eve parties. Name the occasion, and Sophie Evans will be there. Well, she has to be there. Sophie works for the local florist, so she can be found at every big event in her small hometown, arranging bouquets and managing family dramas.

Enter Andrew Hart. The son of the fancy new chef in town, Andrew is suddenly required to attend all the same events as Sophie. Entitled, arrogant, preppy Andrew. Sophie just wants to get her job done and finish up her sketches so she can apply to design school. But every time she turns around, there is Andrew, getting in her way and making her life more complicated. Until one day she wonders if maybe complicated isn't so bad after all . . .

Told over the course of one year and following Sophie from event to event, this delightful novel from master of romantic comedy Kasie West shows how love can blossom in unexpected places.



So you all know I love author Kasie West's books and just looking at this one I can't wait to read it. (The reason I had to showcase this one right away.) I mean look at this cover...and of course the summary. I mean come on it sounds amazing!
This book doesn't release till next month so my plan is to add it to my TBR plan for July, if I don't jump the gun and read it in June. I'm trying to stick to my
TBR plan for June
though. So we shall see. Kasie West is one of my favorite authors and I know I'm not the only one out there that knew this book was releasing in July, I'm not the only one that watches their favorite authors release dates...right? LOL
So that's the plan, hopefully I can stick to it. I'm hoping to have it read and reviewed by release week as well, so you all will know my thoughts as soon as I finish the book next month.
What Are Your Thoughts On This One?
Have you heard about this one? If so, are you as excited to read it as I am? Let me know your thoughts in the comments below.