Review: Catching Fire by Suzanne Collins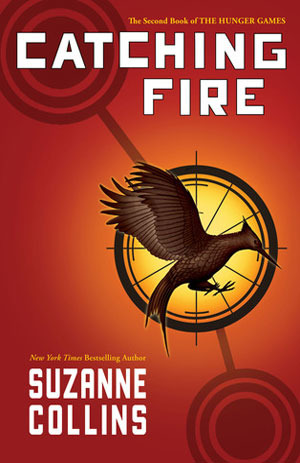 Title: Catching Fire
Author: Suzanne Collins
Publisher: Scholastic Press
Published Date: September 1st 2009
Sparks are igniting. Flames are spreading. And the Capitol wants revenge. Against all odds, Katniss has won the Hunger Games. She and fellow District 12 tribute Peeta Mellark are miraculously still alive. Katniss should be relieved, happy even. After all, she has returned to her family and her longtime friend, Gale. Yet nothing is the way Katniss wishes it to be. Gale holds her at an icy distance. Peeta has turned his back on her completely. And there are whispers of a rebellion against the Capitol - a rebellion that Katniss and Peeta may have helped create. Much to her shock, Katniss has fueled an unrest she's afraid she cannot stop. And what scares her even more is that she's not entirely convinced she should try. As time draws near for Katniss and Peeta to visit the districts on the Capitol's cruel Victory Tour, the stakes are higher than ever. If they can't prove, without a shadow of a doubt, that they are lost in their love for each other, the consequences will be horrifying. In Catching Fire, the second novel in the Hunger Games trilogy, Suzanne Collins continues the story of Katniss Everdeen, testing her more than ever before...and surprising readers at every turn.
Okay, so if you have read some of my other posts, you already know how I feel about this book, in fact I was pretty sure I had already posted my review of Catching Fire, but as I went back through my reviews I found out that I hadn't. So here we are, time to chat about this book and I'll just come out and say it, this is one of my least favorite YA Dystopian books out there and that's putting it nicely.
I know I'm probably going to get flack about this and this is what I'll end up saying, not every book is for everyone. I did however promise myself to finish this series and I do plan on doing that before Mocking Jay part 1 comes out to theaters. However, I really enjoy the movie version of this book, so I guess there is that.
Now let's talk about what I did like about this book, yes there is a few things. One of those things is the world, I really do love the world that author Suzanne Collins created. The format of the Capital and the other people in the world is fantastic. My only problem with it is that it could have been executed in the book better. Her descriptions aren't up to par for me when I'm reading a book and to me there wasn't enough. Another thing I did like, was the love triangle. Which isn't something that I usually like, but in this book I think it wasn't that forced in your face type.
As I stated above there are a lot of things that I don't like about this book, one of which is the actual writing style of this author, I have a hard time reading the book and catching everything that I've read. There are a few mistakes in the book as well as a few plot holes that just irk me. I don't want to go on a bashing spree or give anything away. You should read this book and see for yourself. There are a lot of people that love this book. I will say it again, not every book is for everyone.
With everything said above I'm giving Catching Fire an Ali's Bookshelf...
Plot: 10/20
Creativity: 10/20
Characters: 20/20
Ending: 5/10
Cover: 10/10
Here at Ali's Bookshelf we accept books in exchange for a honest review. However, the book above was one that I bought and decided to review. We also use Amazon Affiliate links at times.