It's Monday! What Are You Reading is hosted by Book Journey!

Today I'm Reading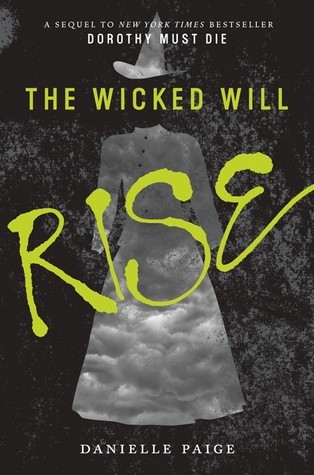 The Wicked Will Rise by Danielle Paige
In this dark, high-octane sequel to the New York Times bestselling Dorothy Must Die, Amy Gumm must do everything in her power to kill Dorothy and free Oz. To make Oz a free land again, Amy Gumm was given a mission: remove the Tin Woodman's heart, steal the Scarecrow's brain, take the Lion's courage, and then Dorothy must die... But Dorothy still lives. Now the Revolutionary Order of the Wicked has vanished, and mysterious Princess Ozma might be Amy's only ally. As Amy learns the truth about her mission, she realizes that she's only just scratched the surface of Oz's past—and that Kansas, the home she couldn't wait to leave behind, may also be in danger. In a place where the line between good and evil shifts with just a strong gust of wind, who can Amy trust—and who is really Wicked?
Into a Million Pieces by Angela V. Cook
Allison McKready is a succubus. So is her twin sister. But while Allison spends her summer break hiding in the library behind her Goth makeup, Jade fools around as often as she can. Allison can't believe Jade would ignore their mother's fatal example so recklessly, but concealing a cursed bloodline and its dangerous effects is far from Allison's only problem. Mean girl Julie's snob mob is determined to ruin her summer, and Aunt Sarah's Bible thumping is getting louder. Only her new friend, Ren Fisher, offers safe haven from the chaos of her life. When one of Jade's risky dates leads to humiliation and sudden tragedy, Allison reels, and Ren catches her. But as her feelings for him grow, so does her fear that she'll hurt him—or worse—in an unguarded moment. The choice is coming—love him or save him—but Allison might not live to make it. One way or another, the curse will have its due.
So there you have it, the two books that I plan on reading this week. What are you reading this week?