It's Monday! What Are You Reading is hosted by Book Journey!
Breaking Nova by Jessica Sorensen
Nova Reed used to have dreams-of becoming a famous drummer, of marrying her true love. But all of that was taken away in an instant. Now she's getting by as best she can, though sometimes that means doing things the old Nova would never do. Things that are slowly eating away at her spirit. Every day blends into the next . . . until she meets Quinton Carter. His intense, honey brown eyes instantly draw her in, and he looks just about as broken as she feels inside. Quinton once got a second chance at life-but he doesn't want it. The tattoos on his chest are a constant reminder of what he's done, what he's lost. He's sworn to never allow happiness into his life . . . but then beautiful, sweet Nova makes him smile. He knows he's too damaged to get close to her, yet she's the only one who can make him feel alive again. Quinton will have to decide: does he deserve to start over? Or should he pay for his past forever?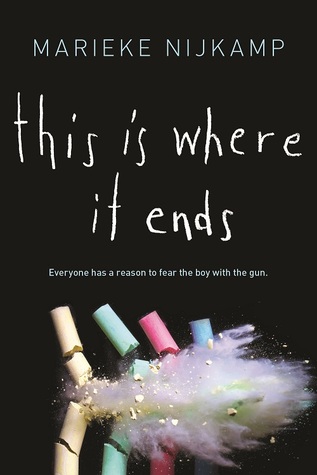 This is where it ends by Marieke Nijkamp
10:00 a.m. The principal of Opportunity, Alabama's high school finishes her speech, welcoming the entire student body to a new semester and encouraging them to excel and achieve. 10:02 a.m. The students get up to leave the auditorium for their next class. 10:03 The auditorium doors won't open. 10:05 Someone starts shooting. Told over the span of 54 harrowing minutes from four different perspectives, terror reigns as one student's calculated revenge turns into the ultimate game of survival.
So there you have it, the two books that I plan on reading this week. What are you reading this week?