Ali Listens is my new review title for Audio book Reviews. I wanted to start splitting up my reviews into categories. Something I've been wanting to do for awhile, just haven't had the chance. More categories coming soon, but this is the one I wanted to start with.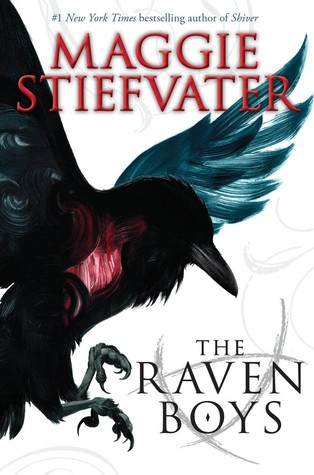 Author:
Maggie Stiefvater
Length:
11 hrs and 8 mins
Read From:
Jan. 28th, 2016 to Feb 8th, 2016
Reading Challenges: 2016 TBR Challenge
"There are only two reasons a non-seer would see a spirit on St. Mark's Eve," Neeve said. "Either you're his true love . . . or you killed him." It is freezing in the churchyard, even before the dead arrive. Every year, Blue Sargent stands next to her clairvoyant mother as the soon-to-be dead walk past. Blue herself never sees them—not until this year, when a boy emerges from the dark and speaks directly to her. His name is Gansey, and Blue soon discovers that he is a rich student at Aglionby, the local private school. Blue has a policy of staying away from Aglionby boys. Known as Raven Boys, they can only mean trouble. But Blue is drawn to Gansey, in a way she can't entirely explain. He has it all—family money, good looks, devoted friends—but he's looking for much more than that. He is on a quest that has encompassed three other Raven Boys: Adam, the scholarship student who resents all the privilege around him; Ronan, the fierce soul who ranges from anger to despair; and Noah, the taciturn watcher of the four, who notices many things but says very little. For as long as she can remember, Blue has been warned that she will cause her true love to die. She never thought this would be a problem. But now, as her life becomes caught up in the strange and sinister world of the Raven Boys, she's not so sure anymore. From Maggie Stiefvater, the bestselling and acclaimed author of the Shiver trilogy and The Scorpio Races, comes a spellbinding new series where the inevitability of death and the nature of love lead us to a place we've never been before.
It's taken me awhile to write this review, mainly because I am in such awe of this story. The Raven Boys isn't like any of the books I've read in a long time. Which of course made me read/listen to this one faster than I normally do. With all that being said, I'm going to try my best to do this one justice with my review. (Pretty much with just this paragraph you know what rating I'm going to give this book...or do you?)
Like I said above I wasn't sure where to start with this review, but I think I'll start with my favorite parts of this story and then work my way through to the not so good. I must say my favorite part of this book would have to be the characters. At points I laughed my butt off and the things they said and then at some points there were some great Awe parts. All around the characters are fantastic. I really want to know more about some of the secondary characters though and hopefully author Maggie Stiefvater includes that in the next books. Also I think my favorite character would have to be a secondary character as well, Adam is so sweet and smart as hell, but Ronan is also a favorite because he's very mysterious.
Let's chat about the two main characters a bit, Blue (Love her name by the way) is still a bit of a mystery as well, I really enjoyed hearing her take on what was happening, but I want to know more about her. She's not like the rest of her family and I want to know why. She's not a clairvoyant, but she has her own powers which I think are just as spectacular. I've never read a book with so many clairvoyant people in the story, that's one of the things that got to me while reading. There are so many different characters in this book that it's a bit hard to keep up, even when listening to it. That's mainly my only complaint.
I must say that the beginning of this story pulled me in right away and after that I was done for. I couldn't stop listening. I had to know what was going to happen to this group of teens. Which of course makes The Raven Boys a fantastic story. The writing style was a bit hard to get used to as it switches between character point of views, but once I got used to that I really tended to like that I got different takes on the story.
As for listening to the story, the male voice that read the story wasn't one that I enjoyed at first, but again his voice did grow on me. At first I scrunched my nose every time he read Blue's part in his weird tone, but again it grew on me in the end. I think it had more to do with the story though than his reading.
If you like fantasy young adult books, this is a must read!
I'm going to give this one two ratings. One for the book and story itself and one for the audio.
Book/Story Rating:
Here at Ali's Bookshelf we accept books in exchange for a honest review. The book above came from the publisher. The Audio however I bought myself through Audible. We also use Amazon Affiliate links at times.