Ali Listens is my new review title for Audio book Reviews. I wanted to start splitting up my reviews into categories. Something I've been wanting to do for awhile, just haven't had the chance. More categories coming soon, but this is the one I wanted to start with.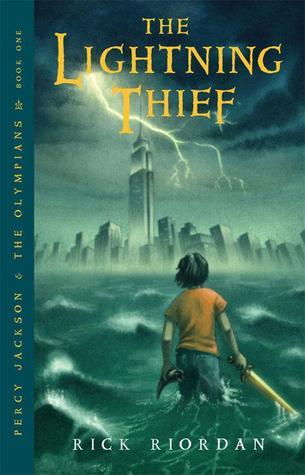 Title:
The Lightning Thief
Publisher:
Disney Hyperion Books
Audio Publisher:
Listening Library
Narrated by:
Jesse Bernstein
Length:
10 Hours and 1 Minute
Read From:
February 23 to March 19, 2016
Reading Challenges: 2016 TBR Challenge
Percy Jackson is a good kid, but he can't seem to focus on his schoolwork or control his temper. And lately, being away at boarding school is only getting worse—Percy could have sworn his pre-algebra teacher turned into a monster and tried to kill him. When Percy's mom finds out, she knows it's time that he knew the truth about where he came from, and that he go to the one place he'll be safe. She sends Percy to Camp Half Blood, a summer camp for demigods (on Long Island), where he learns that the father he never knew is Poseidon, God of the Sea. Soon a mystery unfolds and together with his friends—one a satyr and the other the demigod daughter of Athena—Percy sets out on a quest across the United States to reach the gates of the Underworld (located in a recording studio in Hollywood) and prevent a catastrophic war between the gods.
I must say right away that listening to this one was the right way to go for me. The Lightning thief is one that is slow in the beginning, but once it takes off it's a whirlwind of an adventure. If I'm being honest, in the beginning I almost turned this audiobook off and didn't finish, but I'm glad I forced myself to continue. The movie however is way different than the book, fair warning. I didn't realize how different it was till I started listening and was a bit surprised at all the differences. Not that it's a bad thing, not in any way it's just not what I had expected.
The characters in this story are pretty much kids, ones that have monsters following them and attacking them, what's more fun than that? I did enjoy some of the changes when it comes to the book to movie adaptations. I really got upset with the book when Posideion, who is Percy's father, sorry if I just spoiled it for you, but to make my appoint I had to. Anyway, in the book he isn't very nice to Percy at all and that really made me angry. I loved the movies take on it, he had wanted Percy and loved him.
The writing style is fabulous and the author is great at details. The only complaint I have with his writing is that his words when showing emotion just weren't as good as they could have been. All and all though, The Lighning Thief is a great book for anyone that would like a quick read.
Now let's talk about the audio, this is where my thoughts get a bit harsher. The voice that told the story, to me seemed a bit one denominational and I had to force myself to keep listening. I own the book in paperback and could have just stopped and read it myself, but I wanted to hear this story. Really I wish they would have found someone else to voice this story.
I will continue reading this series, but I think I will read them myself instead of listening. If you like books that are packed full of adventure and clues, this is the perfect series/book for you.
So for audio books I like to give two ratings. One for the story itself and one for the audio.
Story Rating:
Here at Ali's Bookshelf we accept books in exchange for a honest review. The book above came from my own self. The Audio, I bought myself through Audible. We also use Amazon Affiliate links at times.