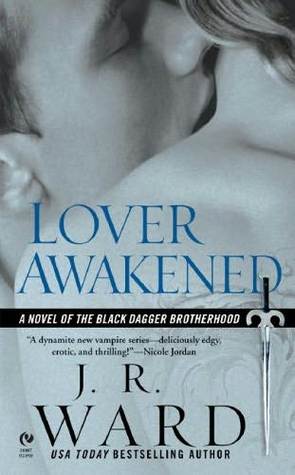 Title:
Lover Awakened
Author:
J.R. Ward
Publisher:
Signet
Series:
The Black Dagger Brotherhood #3
Date Published:
September 5th 2006
Format:
Hardcover
Pages:
434 pages
ISBN #:
0451219368
In the shadows of the night in Caldwell, New York, there's a deadly war raging between vampires and their slayers. And there exists a secret band of brothers like no other - six vampire warriors, defenders of their race. Of these, Zsadist is the most terrifying member of the Black Dagger Brotherhood. A former blood slave, the vampire Zsadist still bears the scars from a past filled with suffering and humiliation. Renowned for his unquenchable fury and sinister deeds, he is a savage feared by humans and vampires alike. Anger is his only companion, and terror is his only passion—until he rescues a beautiful aristocrat from the evil Lessening Society. Bella is instantly entranced by the seething power Zsadist possesses. But even as their desire for one another begins to overtake them both, Zsadist's thirst for vengeance against Bella's tormentors drives him to the brink of madness. Now, Bella must help her lover overcome the wounds of his tortured past, and find a future with her…
Now I've found my favorite vampire in this series! Yes I know I say this every time, but this time I really have. Zsadist is officially my favorite Black Dagger Brotherhood Favorite! With all of that out of the way, let's talk about Lover Awakened.
My favorite part of this book is the most saddest part. I love hearing the vampire's backstory and Zsadist's, to me, is the most heart wrenching backstory. I don't want to give anything away, but I cried reading everything he had been through. The whole time reading this book, I kept saying he is the most tortured soul I've ever read about and still to this day I have to agree. My heart breaks just thinking about everything. (If you haven't read this one, you really need to pick it up and start reading it now.) Everything he thought about himself as unworthy I wanted to hug him.
I will say this, I love who his mate ends up being, at first I wasn't sure it was going to happen. Bella has become my favorite of all the girls in these stories. I kept asking myself if he was going to open up and let her in, or was she going to end up with someone else.
Really enjoyed all the action in this book as well, not that there was less in the other two books before this one, but I liked reading it more in this one. It's great getting to know the other brothers in this book as well, I think that's what really drew me into this story the most. So many different takes on everything going on and so many characters walking around, but not so many that it's hard to keep up.
I will say one thing I'm really happy about, this one didn't end in such a cliff hanger. Sometimes too many of those can be too much. Another thing I really enjoyed about this one is that author J.R. Ward really pushed the character into talking about his past in this book and talking to someone about it and not bottling it in any longer. I really hate to see authors that don't mention that part of the healing process for a character with this type of backstory.
I guess I'm another sucker for the wounded character, but I just love this story and Zsadist so much. I would suggest anyone that loves the wounded character like me, to read this book, but make sure you read the other two in the series first. This way you can see a bit more into Zsadist first.
"I was dead until you found me, though I breathed. I was sightless, though I could see. And then you came...and I was awakened."
As if you didn't already know...
Here at Ali's Bookshelf we accept books in exchange for a honest review. The book above though I bought for myself, but still wanted to review it. We also use Amazon Affiliate links at times