This is Down the TBR Hole, I used to post these, but just recently but it always helped me clear out some of the books that I no longer want to read. Anyway, this meme was created by
Lost in a Story
, sadly right now she's on a hiatus and isn't really posting right now.
I found the post again over at
Cornerfolds
blog and I knew I needed to get back to this meme! Currently my TBR shelf on Goodreads is way over 2000 books, so I really need to work on getting that number down.
Anyway, here are the rules of Down the TBR Hole!
Go to your goodreads to-read shelf.
Order on ascending date added.
Take the first 5 (or 10 if you're feeling adventurous) books
Read the synopses of the books
Decide: keep it or should it go?
The Shadow Reader
by Sandy Williams
I added this book to my list because of a friend that told me how much she loved it. I really liked the cover and the summary. Looking at it now, I still want to read this book. It sounds really good!
Verdict: Keep
Kindling The Moon
by Jenn Bennett
The same friend above told me to also read this one. Again this one sounds like something I would enjoy! I think I'll keep this one around for awhile longer and see if I get to it.
Verdict: Keep for now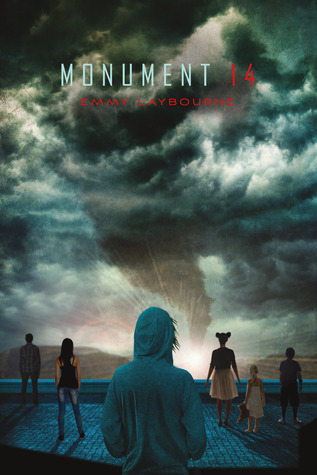 Monument 14
by Emmy Laybourne
Yet another one that my friends told me to read. I also seen this one around Booktube a lot so I added it. The book still sound pretty good to me and yet again I'm going to keep this one on my list.
Verdict: Keep for now
Hunting Lila
by Sarah Alderson
I'm pretty sure I added this one after seeing in on a few blogs that I read. After all this time and reading the summary again, I don't really think it's something that I'm going to want to read. Sadly, it just doesn't sound that interesting anymore. Honestly, it sounds like something I've read before.
Verdict: Pass
What's Left Of Me
by Kat Zhang
I'm a bit on the fence with this one, in one way I want to keep it around because it sounds good, then I read a few of my friends reviews and they say that they were confused at times but it was a fun read. GRRR I'm not sure. Hmm this is really hard, I think I'm going to pass on this one.
Verdict: Pass
I'm not sure how I feel about this one, in the beginning I was good. I know which ones I wanted to keep and which ones I didn't. Now I'm still on the fence about the one at the end. What do you all think, should I have kept What's Left of Me? Tell me what you think, have you read this one and was it any good?
Total number of books deleted: 2
Total number of books kept: 3