I recieved this book for free in exchange for my honest review. My thoughts are my own and mine alone.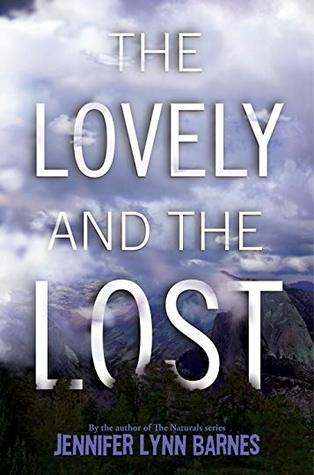 The Lovely and the Lost by Jennifer Lynn Barnes
Published: May 7th 2019
Publisher: Freeform
Format: E-ARC
Challenges: Goodreads
Kira Bennett's earliest memories are of living alone and wild in the woods. She has no idea how long she was on her own or what she had to do to survive, but she remembers the moment that Cady Bennett and one of her search-and-rescue dogs found her perfectly. Adopted into the Bennett family, Kira still struggles with human interaction years later, but she excels at the family business: search-and-rescue. Along with Cady's son, Jude, and their neighbor, Free, Kira works alongside Cady to train the world's most elite search-and-rescue dogs. Someday, all three teenagers hope to put their skills to use, finding the lost and bringing them home. But when Cady's estranged father, the enigmatic Bales Bennett, tracks his daughter down and asks for her help in locating a missing child—one of several visitors who has disappeared in the Sierra Glades National Park in the past twelve months—the teens find themselves on the frontlines sooner than they could have ever expected. As the search through 750,000 acres of unbridled wilderness intensifies, Kira becomes obsessed with finding the missing child. She knows all too well what it's like to be lost in the wilderness, fighting for survival, alone. But this case isn't simple. There is more afoot than a single, missing girl, and Kira's memories threaten to overwhelm her at every turn. As the danger mounts and long-held family secrets come to light, Kira is forced to question everything she thought she knew about her adopted family, her true nature, and her past.
Let me first start off this review by saying this isn't the usual genre that I read, now in this instance this isn't a bad thing. I tend to stick the contemporary or fantasy when it comes to young adult, but I am so happy that I jumped out of my comfort zone and picked this one up. I loved this book so much. The story had me on the edge of my seat the whole time and I had no clue who the real bad person was. There were so many clues pointing me toward one person when it was a person that I didn't see coming. But I'm getting ahead of myself. Like I said I love this book and honestly I've now picked up another book by this author and can't wait to read it as well.
The writing style of author Jennifer Lynn Barnes is one that caught my attention right away. It's the reason I stuck around to see what was going to happen next, well that and the plot of course. This author has a way with words and honestly I was so caught up in the story that my emotions were all over the place just by reading this book. Which to me makes for the best kind of read. If you're that connected to a story then you're reading a great book! I loved how real this book/story felt while I was reading it. It was almost like I could see it playing out in my head as I read each word from the page.
I really connected also to the fantastically written characters. All throughout the book I wanted to know more about each of them and the author in her time gave us details about each. You could really tell that she fleshed out each one of them, even the smaller role characters. I loved that all the information about each of them wasn't just thrown in there in the first couple chapters, but throughout the whole book. Yes! I mean the whole book.
I had to know why and where Kira came from. (Not going to give away any spoilers so no worries.) But I had to know the reasons she was in the woods. I loved the connections that this book showed between her and her dog as well. It showed how much belief she had and trust she had in her companion. I also connected to the mom in this story as well and the whole search and rescue part.
I loved each and every part of this book! I haven't stopped thinking about it since I put it down for the final time. This might be a book that I end up re-reading at some point. If you haven't read The Lovely and the Lost by author Jennifer Lynn Barnes, you should pick this one up and start it right away. It's my favorite read so far this year. Who would have thought that a mystery young adult would be my favorite book of the year!
Oh and I must say one more thing, I love love love this cover! It's so subtle but so pretty at the same time.
I know a couple months ago I talked about trying to be more critical with my ratings and I have been lately, but The Lovely and the Lost deserves this rating to the fullest.
Plot: 20/20
Characters: 20/20
Writing: 19/20
Cover: 10/10
Ending: 10/10