I recieved this book from the publishers for free in exchange for my honest review. My thoughts are my own and mine alone.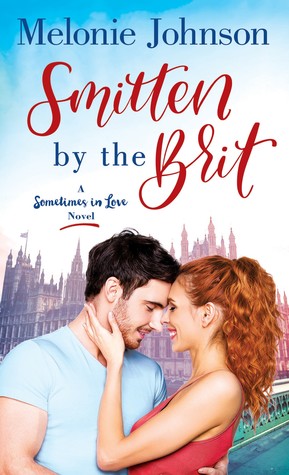 Smitten by the Brit by Melonie Johnson
Published: May 28th 2019
Publisher: St. Martin's Press
Format: Paperback
Pages:
384 pages
Challenges: Goodreads Challenge
DEFINITELY, MAYBE...OR LOVE, ACTUALLY? English professor Bonnie Blythe expects her life to play out like her favorite novels, especially now that her long-term boyfriend has finally proposed. So when a shocking discovery leads Bonnie to end her engagement, she decides to close the book on love. But the plot thickens when a brand-new character enters the scene—and quickens Bonnie's heart. With his brilliant blue eyes, sexy accent, and irresistible charm, Theo Wharton is like a romantic hero straight out of a Jane Austen novel. When fate places Bonnie in England for a summer—conveniently close to Theo—she realizes a hot friends-with-benefits fling is exactly what she needs to start a fresh chapter. Just as Bonnie begins to believe she's falling in love, an eye-opening revelation into Theo's life makes Bonnie feel like she's wandered into one of her favorite books. Will Bonnie have the courage to risk her heart and turn the page with the dashing Brit to find her true happy ending after all?
When I was asked to read/review Smitten by the Brit I jumped at the chance as soon as I read the summary. I was almost slipping into a bit of a reading slump, I could feel it. A light, easy and fun read was the perfect thing. Now that I've finished this book, I realize that this wasn't a light read. There were a few times when I wanted to throw this book and scream at the main characters. Fun read, yes this was. I loved this book!
I also want to say a huge thanks to St. Martin's press for sending me this book for review, the books they send me for review are always amazing and I can't wait to read the other book they sent me recently.
Now back to talking about Smitten by the Brit, I will say there were times throughout this book that I didn't think it was going to end the way I wanted it too. I thought it was going to break my heart, litterly rip it to shreads and not fix it. I'm so happy that it didn't end up that way, but toward the end I was on the edge of my seat (well my bed) wondering if it was all going to work out. Now I'm not going to give away spoilers, but who am I kidding we all want that happily ever after when reading these type of books and guess what it happens.
I love Bonnie and Theo so much, totally a new ship for me here. I want to read what happens to them next though, like seriously what happend after that ending?
Fair warning there are some steamy scenes in this book and I honestly loved each and everyone of them. This book played out like a movie and honestly it was one that I couldn't put down not that I would have wanted to. There was a point in this book where I was yelling at Bonnie for her to just talk to Theo, but yeah it all worked out in the end. That's all I'm going to say.
I have so much love for this book, if you're looking for a fun and flirty book to read. Smitten by the Brit is the perfect one for you to pick up! I highly recommend it.
As you can already tell, I loved this book, so I'm giving it an Ali's Bookshelf...
Plot: 18/20
Characters: 20/20
Writing: 19/20
Cover: 10/10
Ending: 10/10