Book Blogger Hop is another post I'm going to be trying out and this one has a topic each week, which is something I've been trying to bring to the blog. I'm really excited about this one because I have a hard time coming up with something fresh to talk about and I'm hoping this helps.
If you would be interested in doing your own post, please
CLICK HERE
to learn more about this great hop!
Is there one book you will NEVER forget?
This is a simple question for me to answer, there is not just one book that I will never forget! But for this post I want to talk about this one particilar book. I read this one a few years ago and I couldn't put it down, so much so that I cooked with it in my hand and spent most of the day on my couch reading it.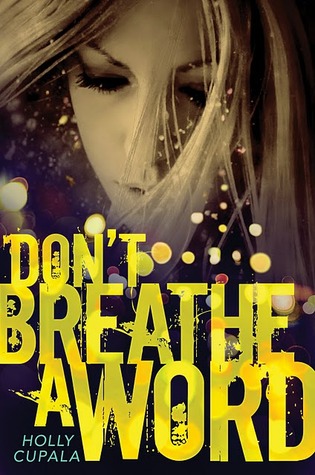 Don't Breath A Word by Holly Cupala is the book that captured me and still to this day I haven't forgot about it and the characters. The plot of this book was like nothing I had ever read and the writing was perfection!
If you haven't read this book, it's one you should get your hands on right away, fair warning though, it is one you won't put down till the final word.
Joy delamere is suffocating. From asthma, from her parents, and from her boyfriend, Asher, who is smothering her from the inside out. She can take his cruel words, his tender words . . . until the night they go too far. To escape, Joy sacrifices her suburban life to find the one who offered his help, a homeless boy called Creed. He introduces her to a world of fierce loyalty, to its rules of survival, and to love—a world she won't easily let go. Set against the backdrop of the streets of Seattle, Holly Cupala's power­ful new novel explores the subtleties of abuse, the secrets we keep, and the ways to redemption. But above all, it is an unflinching story about the extraordinary lengths one girl will go to discover her own strength.
Do you have a book that you will never forget? If so, what book is it and why will it be forever in your mind?