It's Monday! What Are You Reading is hosted by Book Journey!
The Wanderer by Robyn Carr
From Robyn Carr, #1 New York Times bestselling author of the popular Virgin River novels, comes Thunder Point-the highly anticipated new series that will make you laugh, make you sigh, and make you fall in love with a small town filled with people you'll never forget. Nestled on the Oregon coast is a small town of rocky beaches and rugged charm. Locals love the land's unspoiled beauty. Developers see it as a potential gold mine. When newcomer Hank Cooper learns he's been left an old friend's entire beachfront property, he finds himself with a community's destiny in his hands. Cooper has never been a man to settle in one place, and Thunder Point was supposed to be just another quick stop. But Cooper finds himself getting involved with the town. And with Sarah Dupre, a woman as complicated as she is beautiful. With the whole town watching for his next move, Cooper has to choose between his old life and a place full of new possibilities. A place that just might be home.
This Week I Plan To Read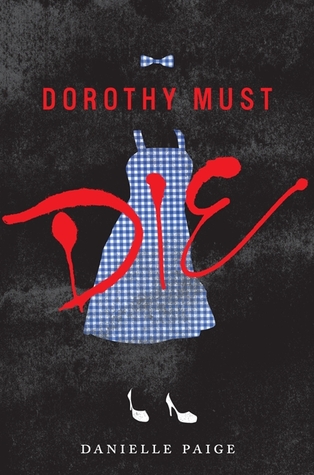 Dorothy Must Die by Danielle Paige
I didn't ask for any of this. I didn't ask to be some kind of hero. But when your whole life gets swept up by a tornado - taking you with it - you have no choice but to go along, you know? Sure, I've read the books. I've seen the movies. I know the song about the rainbow and the happy little bluebirds. But I never expected Oz to look like this. To be a place where Good Witches can't be trusted, Wicked Witches may just be the good guys, and winged monkeys can be executed for acts of rebellion. There's still a yellow brick road - but even that's crumbling. What happened? Dorothy. They say she found a way to come back to Oz. They say she seized power and the power went to her head. And now no one is safe. My name is Amy Gumm - and I'm the other girl from Kansas. I've been recruited by the Revolutionary Order of the Wicked. I've been trained to fight. And I have a mission.
So there you have it, the two books that I plan on reading this week. What are you reading this week?