This meme started with J Kaye's Blog and then was taken up by Sheila from
Book Journey.
Sheila then passed it on to Kathryn at the
Book Date
. It's a meme where you share what you read last week, what you're currently reading and what you plan on reading that week.
So it's the first day of Bout of Books 17, so my list this week will showcase what I plan to read first. I've been in a major reading slump again, so I'm hoping this read-a-thon will help with that.
I still have about 150 pages left of this one, so I'm hoping I can get this one done quick and today!
The contents of Happily Ever After are as follows:


-The Prince (with the two bonus chapters), Maxon's novella
-The Guard, Aspen's novella
-The Queen, Amberly's novella
-The Favorite, Marlee's novella
-Three scenes from Celeste's POV
-Lucy's scene (bonus scene from The One)
-The bonus epilogue
-Where are they now?
-A map
-Various illustrations
This Week I Plan To Read:
I have over 400 pages to read on this one, so I'm hoping to get this one in as well this week.
Ruby never asked for the abilities that almost cost her her life. Now she must call upon them on a daily basis, leading dangerous missions to bring down a corrupt government and breaking into the minds of her enemies. Other kids in the Children's League call Ruby "Leader", but she knows what she really is: a monster.

When Ruby is entrusted with an explosive secret, she must embark on her most dangerous mission yet: leaving the Children's League behind. Crucial information about the disease that killed most of America's children—and turned Ruby and the others who lived into feared and hated outcasts—has survived every attempt to destroy it. But the truth is only saved in one place: a flashdrive in the hands of Liam Stewart, the boy Ruby once believed was her future—and who now wouldn't recognize her.

As Ruby sets out across a desperate, lawless country to find Liam—and answers about the catastrophe that has ripped both her life and America apart—she is torn between old friends and the promise she made to serve the League. Ruby will do anything to protect the people she loves. But what if winning the war means losing herself?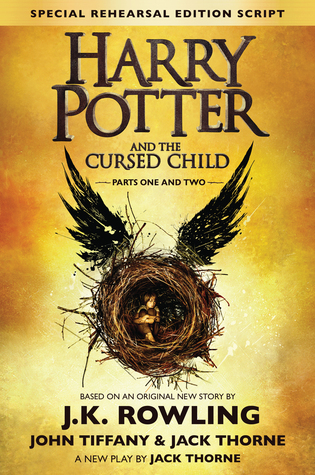 I have about 200 pages of this one left, so again I'm hoping to get this one finished this week as well.
The Eighth Story. Nineteen Years Later.

Based on an original new story by J.K. Rowling, Jack Thorne and John Tiffany, a new play by Jack Thorne, Harry Potter and the Cursed Child is the eighth story in the Harry Potter series and the first official Harry Potter story to be presented on stage. The play will receive its world premiere in London's West End on July 30, 2016.

It was always difficult being Harry Potter and it isn't much easier now that he is an overworked employee of the Ministry of Magic, a husband and father of three school-age children.

While Harry grapples with a past that refuses to stay where it belongs, his youngest son Albus must struggle with the weight of a family legacy he never wanted. As past and present fuse ominously, both father and son learn the uncomfortable truth: sometimes, darkness comes from unexpected places.
A Thousand Pieces of You by Claudia Gray
Crave by Melissa Darnell
That's it for me this week, each of these books are rather large, but I'm hoping to finish all of them for the read-a-thon. If I finish them the next two books are listed above as well.