It's Monday! What Are You Reading is hosted by Book Journey!
So, I'm finally back in the swing of things and have so much to read and share with you all. Reviews, giveaways, and so much more is to come in the next several weeks. But, right now it's time to check in and see what I'm reading.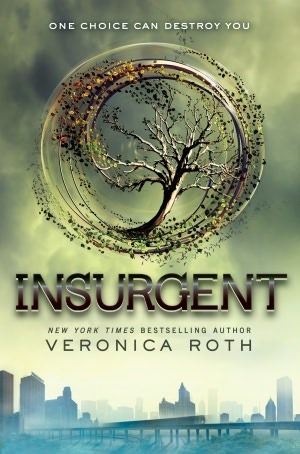 (Yes I know, don't shoot me please. I still haven't read it, but I am now)
One choice can transform you—or it can destroy you. But every choice has consequences, and as unrest surges in the factions all around her, Tris Prior must continue trying to save those she loves—and herself—while grappling with haunting questions of grief and forgiveness, identity and loyalty, politics and love.

Tris's initiation day should have been marked by celebration and victory with her chosen faction; instead, the day ended with unspeakable horrors. War now looms as conflict between the factions and their ideologies grows. And in times of war, sides must be chosen, secrets will emerge, and choices will become even more irrevocable—and even more powerful. Transformed by her own decisions but also by haunting grief and guilt, radical new discoveries, and shifting relationships, Tris must fully embrace her Divergence, even if she does not know what she may lose by doing so.
An intense look at the rules of high school attraction -- and the price that's paid for them.

It happens every year. A list is posted, and one girl from each grade is chosen as the prettiest, and another is chosen as the ugliest. Nobody knows who makes the list. It almost doesn't matter. The damage is done the minute it goes up.

This is the story of eight girls, freshman to senior, "pretty" and "ugly." And it's also the story of how we see ourselves, and how other people see us, and the tangled connection of the two.
The authors of the hit Goddess Girls series put a fun and girly twist on another super-popular theme: fairy tales!

Once upon a time, in faraway Grimmlandia...

A Grimmtastic girl named Cinderella is starting her first week at Grimm Academy on the wrong foot. Cinda's totally evil stepsisters are out to make her life miserable. The Steps tease Cinda, give her terrible advice about life at the academy, and even make her look bad in front of her new friends, Red, Snow, and Rapunzel! But when Cinda overhears the Steps plotting a villainous deed that could ruin Prince Awesome's ball, Cinda, her new friends, and a pair of magical glass slippers have to stop them--before the last stroke of midnight!
So there you have it, what I'm reading this week. Might add a few more, depending on how much reading I actually get finished! What are you reading this week?