It's Monday! What Are You Reading is hosted by Book Journey!
Alright, so let's get right down to business, shall we? I have a few books that I'm reading right now so below is my lovely list. I have a bunch of books that I just finished and will be working on reviews for those this week. So I promise new reviews are coming, but here is the list of the books I'm reading now.
Also, soon I'm going to be switching Ali's Bookshelf over to Young Adult and Children's books only, I have a new blog coming where I will be sharing all the adult books, along with tv shows, and movies. So, make sure you are around to get the news about that one coming soon. But for now, I still have adult books here.
Logging manager Matt Shaw is wary when Kayla Edwards, the owner of Mountain Specialty Spices, hires his firm to harvest timber on her Appalachian property. It's a place he knows better than the back of his calloused hand—it's his family's old homestead, lost years ago in a painful foreclosure. He's hauled himself up from dirt-floor poor since then, and resolves to stay professional… But Kayla's vivacious beauty makes it hard to focus on his job.

Home. That's how army-brat-turned-foodie Kayla feels about her new mountain hideaway. What's more, the hottest lumberjack ever to swing an axe has agreed to manage her timber crop and get the old maple syrup operations back on tap. Matt's ruggedly sexy ways and passion for the land have her falling hard.

The heat between them grows wild…until Kayla discovers that Matt hasn't been upfront with her. She feels devastated, and worst of all, used. How can Matt prove it's her he wants and not her land?
Fiercely loyal to the Black Dagger Brotherhood, Phury has sacrificed himself for the good of the race, becoming the male responsible for keeping the Brotherhood's bloodlines alive. As Primale of the Chosen, he is obligated to father the sons and daughters who will ensure that the traditions of the race survive, and that there are warriors to fight those who want all vampires extinguished.

As his first mate, the Chosen Cormia wants to win not only his body, but his heart for herself. She is drawn to the noble responsibility behind the emotionally scarred male. But Phury has never allowed himself to know pleasure or joy. As the war with the Lessening Society grows grim, tragedy looms over the Brotherhood's mansion, and Phury must decide between duty and love....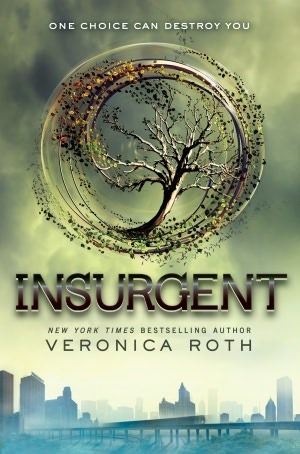 Insurgent by Veronica Roth (Yep I'm still reading this one lol)
One choice can transform you—or it can destroy you. But every choice has consequences, and as unrest surges in the factions all around her, Tris Prior must continue trying to save those she loves—and herself—while grappling with haunting questions of grief and forgiveness, identity and loyalty, politics and love.

Tris's initiation day should have been marked by celebration and victory with her chosen faction; instead, the day ended with unspeakable horrors. War now looms as conflict between the factions and their ideologies grows. And in times of war, sides must be chosen, secrets will emerge, and choices will become even more irrevocable—and even more powerful. Transformed by her own decisions but also by haunting grief and guilt, radical new discoveries, and shifting relationships, Tris must fully embrace her Divergence, even if she does not know what she may lose by doing so.
I'm also re-reading Harry Potter. I haven't done this in awhile and I thought it was time to dive back into that world. So there you have it, the list of this weeks books.

What are you reading this week? I'd love to hear from you!