So I've been wanting to try a few new memes on the blog, change some things up a bit. This is one that I have chosen, it's hosted by the amazing
ICEYBOOKS!
I love her blog and if you haven't checked it out, you should.
In this meme you pick a few books that you want to read next and you make a post about them. Then pretty much you ask your readers which one you should read next. I'm thinking this might help me in my reading slump a bit as well.
Emily Bronte loves her sisters, responsible Charlotte and quiet Anne, and her brother, tempestuous Branwell. She loves the moors that stretch all around the little village of Haworth, and wandering over them in the worst of weather. And she loves most of all the writing that brings all these things together, as she and her siblings create vast kingdoms and vivid adventures that take them deep into their imaginations. But change is coming to Haworth, as their father falls ill and the girls must learn how to support themselves. How can Emily preserve both what she loves, and herself, and find her way into the future?
Music, magic, and a real-life miracle meld in this genre-defying masterpiece from storytelling maestro Pam Muñoz Ryan. Lost and alone in a forbidden forest, Otto meets three mysterious sisters and suddenly finds himself entwined in a puzzling quest involving a prophecy, a promise, and a harmonica. Decades later, Friedrich in Germany, Mike in Pennsylvania, and Ivy in California each, in turn, become interwoven when the very same harmonica lands in their lives. All the children face daunting challenges: rescuing a father, protecting a brother, holding a family together. And ultimately, pulled by the invisible thread of destiny, their suspenseful solo stories converge in an orchestral crescendo. Richly imagined and masterfully crafted, ECHO pushes the boundaries of genre and form, and shows us what is possible in how we tell stories. The result is an impassioned, uplifting, and virtuosic tour de force that will resound in your heart long after the last note has been struck.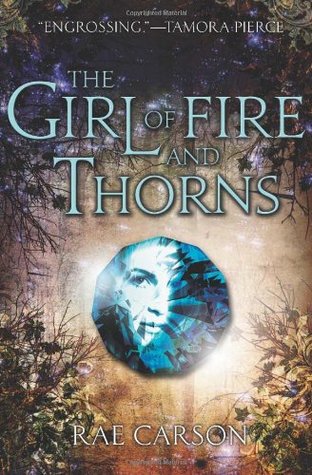 Once a century, one person is chosen for greatness. Elisa is the chosen one. But she is also the younger of two princesses, the one who has never done anything remarkable. She can't see how she ever will. Now, on her sixteenth birthday, she has become the secret wife of a handsome and worldly king—a king whose country is in turmoil. A king who needs the chosen one, not a failure of a princess. And he's not the only one who seeks her. Savage enemies seething with dark magic are hunting her. A daring, determined revolutionary thinks she could be his people's savior. And he looks at her in a way that no man has ever looked at her before. Soon it is not just her life, but her very heart that is at stake. Elisa could be everything to those who need her most. If the prophecy is fulfilled. If she finds the power deep within herself. If she doesn't die young. Most of the chosen do.
So these are the three books that I am wanting to read. Please help me decide what to read next! Leave a comment below and tell me which one you think I should read.