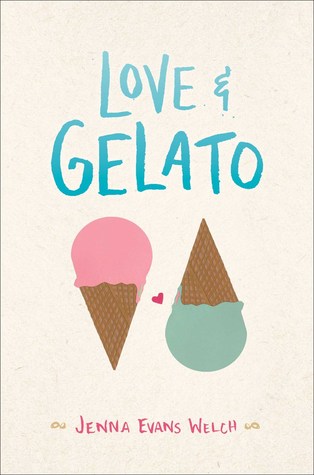 Title:
Love & Gelato
Author:
Jenna Evans Welch
Publisher:
Simon Pulse
Date Published:
May 3rd 2016
Pages:
389 pages
Read From:
March 1st - March 9th
2017
ISBN #:
1481432540
Format:
Hardcover
"I made the wrong choice." Lina is spending the summer in Tuscany, but she isn't in the mood for Italy's famous sunshine and fairy-tale landscape. She's only there because it was her mother's dying wish that she get to know her father. But what kind of father isn't around for sixteen years? All Lina wants to do is get back home. But then she is given a journal that her mom had kept when she lived in Italy. Suddenly Lina's uncovering a magical world of secret romances, art, and hidden bakeries. A world that inspires Lina, along with the ever-so-charming Ren, to follow in her mother's footsteps and unearth a secret that has been kept for far too long. It's a secret that will change everything she knew about her mother, her father—and even herself. People come to Italy for love and gelato, someone tells her, but sometimes they discover much more.
I am super excited to write this review. Love & Gelato is one of my favorite reads this year. I know it was published last year and I kept hearing so many amazing things about it, but I kept putting it off and putting it lower on my TBR shelf. I really wish I hadn't waited, but I'm super happy that I finally read it.
Love & Gelato is one of those books that you don't forget; I know at least it was for me. It was a book that got me back into my groove of reading again and the want back to blog. The plot is perfection and the easy flow of words as a reader really made this book an easy but unforgettable read for me. I fell in love with this story line and the way it was written almost immediately. It drew me in with the first few lines of the book and I couldn't put it down.
I must say I also fell in love with the characters of this story, yet there were times when I wanted to jump into the book and just shake them, but I loved them still. I really connected with Lina and her story and it wasn't just because I love gelato and books about trips. I really wanted her to be happy in the end.
This was one of those books that by the end of the story every loose end has been tied up and I don't know about you but that makes me, as a reader, love a book even more. Especially a standalone book. There are times when authors don't fix everything and that frustrates me when it comes to a stand alone.
I can't wait to read more from this author and hopefully will in the future. If you are looking for a fun and easy read, packed full of emotion and one that draws you in immediately, then Love and Gelato is for you. I could go on and on about this book, but I don't want to accidentally spoil anything for you and I don't want the review to be like a thousand pages long. LOL!
My rating for Love & Gelato is...(pretty sure you know already!)
Here at Ali's Bookshelf we accept books in exchange for a honest review. The book above though I bought for myself . I also use Amazon Affiliate links at times.