Ali Listens is my new review title for Audio book Reviews. I wanted to start splitting up my reviews into categories. Something I've been wanting to do for awhile, just haven't had the chance. More categories coming soon, but this is the one I wanted to start with.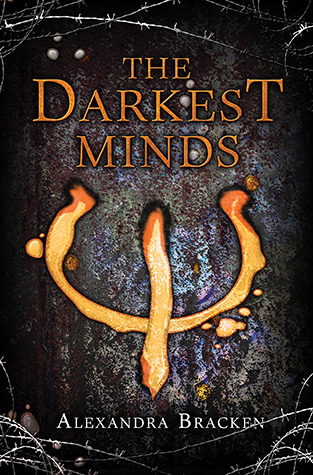 Title: The Darkest Minds
Author: Alexandra Bracken
Audio Publisher: Brilliance Audio
Read From: Jan 1st 2016 - Jan 27th 2016
Narrator: Amy McFadden
Reading Challenges:
2016 TBR Challenge
When Ruby woke up on her tenth birthday, something about her had changed. Something frightening enough to make her parents lock her in the garage and call the police. Something that got her sent to Thurmond, a brutal government "rehabilitation camp." She might have survived the mysterious disease that had killed most of America's children, but she and the others emerged with something far worse: frightening abilities they could not control. Now sixteen, Ruby is one of the dangerous ones. When the truth comes out, Ruby barely escapes Thurmond with her life. She is on the run, desperate to find the only safe haven left for kids like her—East River. She joins a group of kids who have escaped their own camp. Liam, their brave leader, is falling hard for Ruby. But no matter how much she aches for him, Ruby can't risk getting close. Not after what happened to her parents. When they arrive at East River, nothing is as it seems, least of all its mysterious leader. But there are other forces at work, people who will stop at nothing to use Ruby in their fight against the government. Ruby will be faced with a terrible choice, one that may mean giving up her only chance at having a life worth living.' to.
Have you ever had a book stay with you even after you put it down or in my case stopped listening to it? Well The Darkest Minds has done this to me. I can't stop wondering what's going to happen to the characters and where Ruby is going to go next? Seriously not sure why it took me so long to read this book, but I know one thing for sure, I can't wait to read more of this series.
Author Alexandra Bracken's way with words had me in tears at times and grasping for what was going to happen next. The characters are so well thought out and as you read/listen you can see their growth as they go through each trial that they go through. Nothings ever easy for this group of kids, I will say that for certain, but for the main character Ruby, there were times I just wanted to pull her into my arms and hug her or at least I had wished Lee would do so.
My favorite plot part in this whole story isn't really the love story that's intertwined throughout and yes I must say I love that part, but I really loved how each of their, let's call them abilities, are different. The author has a great way of explaining them as well through out the whole book. It's almost as if she painted a picture with each word that she wrote. Oh and I must say that I loved it every time he called her darling. I smiled every time I heard it!
The world she created is a dystopian one I guess you would say, but at the same time it's also something more, at least for me it was. I mean how would you feel if you woke up on your tenth birthday or even before that and knew that you would either die or have something wrong with you? I'm not sure how I would have handled that. As the story unfolds and you get bits and pieces of what actually happened to Ruby, Lee, Zu, and Chubs, each detail of their stories, just makes you as the reader love these characters even more.
I could seriously go on and on about this book and I assure you I have to anyone that will listen. So much so that I now have my mom reading this book. If you haven't read The Darkest Minds and you love dystopian books or even books with magic or super hero type characters, then this is the book for you.
Audio Book Review:
I enjoyed listening to this story so much so and that has to do not only with the authors words and story, but also with the narration of the book itself.
Amy McFadden's voice worked perfectly with the ton of this story. I hope she narrates the whole series because I'm already getting ready to start the next book. The way she changed her accent for certain characters was something that I really enjoyed as well. I could always tell which character was speaking.
I have found my new favorite line in a book and it's from The Darkest Minds. It's a quote that is both daunting and beautifully dark at the same time.
"The Darkest Minds tend to hide behind the most unlikely faces."
I'm pretty sure you all can guess what kind of rating I'm going to give this fantastic book!
Book Rating: 5 Puppies
Audio: 5 Puppies



Here at Ali's Bookshelf we accept books in exchange for a honest review. The audio book above I bought for myself. It wasn't a review book, but liked it enough to write a review. We do use affiliate links here on Ali's Bookshelf, the one above is from Book Depository.