It's Monday! What Are You Reading is hosted by Book Journey!
So

it's Monday again, but once again I get to share what I'm reading with all of you. This week I'm reading a rather large book so I'm only going to have one book on my list for the week. I haven't read a large book like this in awhile, so I'm giving myself the week to see if I can finish it. Keep your fingers crossed for me. I might need the luck!
Last Week I Read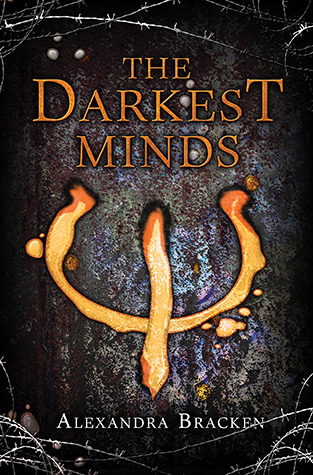 The Darkest Minds by Alexandra Bracken
When Ruby woke up on her tenth birthday, something about her had changed. Something frightening enough to make her parents lock her in the garage and call the police. Something that got her sent to Thurmond, a brutal government "rehabilitation camp." She might have survived the mysterious disease that had killed most of America's children, but she and the others emerged with something far worse: frightening abilities they could not control.





Now sixteen, Ruby is one of the dangerous ones. When the truth comes out, Ruby barely escapes Thurmond with her life. She is on the run, desperate to find the only safe haven left for kids like her—East River. She joins a group of kids who have escaped their own camp. Liam, their brave leader, is falling hard for Ruby. But no matter how much she aches for him, Ruby can't risk getting close. Not after what happened to her parents. When they arrive at East River, nothing is as it seems, least of all its mysterious leader. But there are other forces at work, people who will stop at nothing to use Ruby in their fight against the government. Ruby will be faced with a terrible choice, one that may mean giving up her only chance at having a life worth living.' to
This Week I'm Reading
The Shannara Chronicles: The Elfstones of Shannara by Terry Brooks
In the far future, unbeknown to humankind, an apocalyptic war is brewing. Fearsome, vengeful Demons rage at the boundaries of the world, held at bay by a spell called the Forbidding. But now that barrier is dying. Evil is beginning to break through. And only the Chosen can banish the Demons back to their realm.

Wil Ohmsford is a healer, not a fighter; a man of duty, not great deeds. But this epic battle seeks him out, for he holds the Elfstones: mysterious protective talismans passed down by his grandfather. Wil is recruited to act as guardian to the Elf girl Amberle, who must venture far to deliver a seed that will help the Forbidding to grow again. The fate of civilization rests upon her shoulders—and the completion of her mission rests upon Wil's. Now, as the forces of darkness descend, Wil and Amberle embark on a perilous journey, placing their faith in each other to survive the bloodthirsty terrors that await.

I can't wait to start reading The Shannara Chronicles, I'm loving the TV show so hopefully the book is even better. Has anyone read this book? If so what did you think? I would love to know. The review for The Darkest Minds will be posted soon.