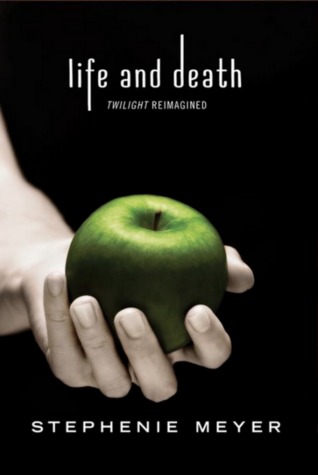 Title:
Life and Death
Author:
Stephenie Meyer
Publisher:
Little Brown
Publishing Date:
October 6th 2015
Format:
Hardcover
Pages:
389 pages
ISBN #:
0349002487
Celebrate the tenth anniversary of Twilight! This special double-feature book includes the classic novel, Twilight, and a bold and surprising reimagining, Life and Death, by Stephenie Meyer. Packaged as an oversize, jacketed hardcover "flip book," this edition features nearly 400 pages of new content as well as exquisite new back cover art. Readers will relish experiencing the deeply romantic and extraordinarily suspenseful love story of Bella and Edward through fresh eyes. Twilight has enraptured millions of readers since its first publication in 2005 and has become a modern classic, redefining genres within young adult literature and inspiring a phenomenon that has had readers yearning for more. The novel was a #1 New York Times bestseller, a #1 USA Today bestseller, a Time magazine Best Young Adult Book of All Time, an NPR Best-Ever Teen Novel, and a New York Times Editor's Choice. The Twilight Saga, which also includes New Moon, Eclipse, Breaking Dawn, The Short Second Life of Bree Tanner: An Eclipse Novella, and The Twilight Saga: The Official Illustrated Guide, has sold nearly 155 million copies worldwide.
Alright, before I share my thoughts about this book with you all, I want to say one thing. I do not want to hear one bad thing in the comments about author Stephenie Meyer or her books. I'm saying if you can't say anything nice, then don't comment. Twilight is a book that got me reading again, I hadn't sat down and actually read a book for years and then Twilight was released and I devoured the whole series like it was my lifeline. With that being said, let's talk about Life and Death shall we.
I really wasn't sure what to think when I heard that Stephenie had a new book being released, I take that back I was wishing it was Edwards take on Twilight, but then I heard it was Twilight rewritten with Bella as a guy. My first words was WHAT! I bought it anyway, of course I had to have the book to add to my collection of Stephenie Meyer books. It took me a little bit to actually pick it up and read it though.
Once I did, I was hooked and actually ended up liking the gender swap. The names were a little weird at first, but once I got used to them, I really got into the book. There are some, okay a lot of differences when it comes to Twilight and Life and Death. I'm not going to give any of those away, mainly because I don't do spoiler reviews. If you're going to read this book, remember some things are the same and with Bella being a guy in this version, the way events turn out can be different.
There is a great twist at the end of the book, one that at first I wasn't sure about, but after I finished the book I ended up loving. It just showed how things could have turned out if she had wrote the story a different way. I must say though I agree with Stephenie in this instance, Bella got the better end of the deal!
My only complaint about this book is I had a hard time believing a guy would be so whinny, but then again I'm used to reading the strong hero guys in books, not the meek and mild version of a male. Not that it's a bad thing, because it makes sense to the character, in the long run I mean.
So if you enjoyed Twilight and or Stephenie Meyer's writing style, you should pick up Life and Death and read this version of the story. If you do, come back and let me know what you think. I would love to hear your thoughts.
So there are a few things that kept this book from getting a perfect rating from me. But all in all, Life and Death by Stephenie Meyer was a great read!
Here at Ali's Bookshelf we accept books in exchange for a honest review. The book above I bought for myself. It wasn't a review book, but liked it enough to write a review. We do use affiliate links here on Ali's Bookshelf, the one above is from Book Depository.