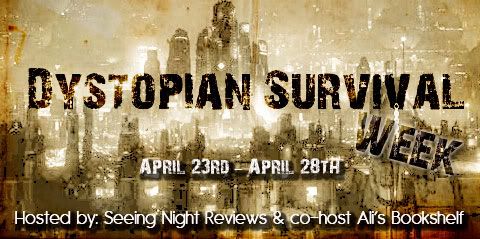 YAY! I'm so exctied about this. I am co-hosting this event, Dystopian Survival Week!
Dystopian Blog Hop Week
Week April 23rd – April 27
Dystopian week is going to consist of hops and challenges through-out the week. Each blog will host a specific topic about dystopian themed topics or challenge they'd like their readers to do to enter their giveaways.
THEME/CHALLENGES SIGNED UP
Kristen @SNR - Will host a Dysopian Cover Challenge (Giving away Insurgent)
You must think of your discussion theme or challenge you would like on your own and email me once you've decided. I will add you to the list once I receive it.
Example: Themes should discuss something about specific dystopian novels, characters, worlds that have been created, anything dystopian related.
Example: Guess which quote this is from, word scrabble, anything that the blogger would have a blast in challenging the readers.
Giveaways should be of a dystopian novel of either the bloggers topic or any dystopian novel of their choice.
Giveaways can be books or book related items
Please email Kristen if your interested in being a hosting blog.
seeingnightreviews (at) gmail.com
We also would love it if you posted the hop button!!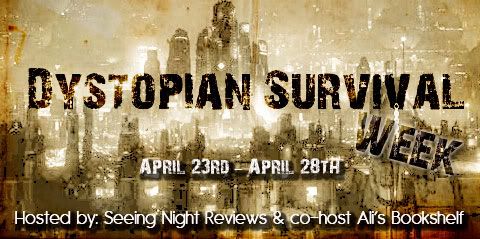 <div align="center"><a href="" title="Dystopian Survival Week" target="_blank"><img src="http://alisbookshelfreviews.blogspot.com/2012/04/dystopian-survival-week-sign-ups.html" alt="Dystopian Survival Week" style="border:none;" /></a></div>