Ali Listens is my new review title for Audio book Reviews. I wanted to start splitting up my reviews into categories. Something I've been wanting to do for awhile, just haven't had the chance. So today I have a great audio book review to share with you.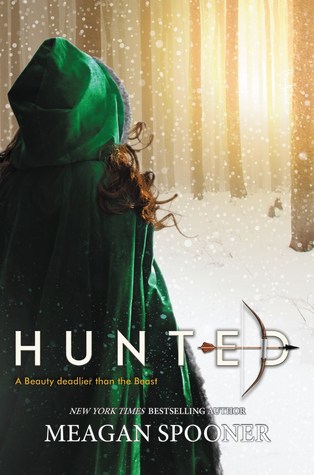 Title: Hunted
Author: Meagan Spooner
Audio Publisher:
HarperAudio
Narrator:
Length:
9 hrs and 19 mins
Reading Challenges:
2016 TBR Challenge, read for a Book Club
Beauty knows the Beast's forest in her bones—and in her blood. Though she grew up with the city's highest aristocrats, far from her father's old lodge, she knows that the forest holds secrets and that her father is the only hunter who's ever come close to discovering them. So when her father loses his fortune and moves Yeva and her sisters back to the outskirts of town, Yeva is secretly relieved. Out in the wilderness, there's no pressure to make idle chatter with vapid baronessas…or to submit to marrying a wealthy gentleman. But Yeva's father's misfortune may have cost him his mind, and when he goes missing in the woods, Yeva sets her sights on one prey: the creature he'd been obsessively tracking just before his disappearance. Deaf to her sisters' protests, Yeva hunts this strange Beast back into his own territory—a cursed valley, a ruined castle, and a world of creatures that Yeva's only heard about in fairy tales. A world that can bring her ruin or salvation. Who will survive: the Beauty, or the Beast?
First off I want to say how amazing this book is! I had been wanting to read this one for awhile and was lucky enough that a book club that I'm a member of picked this one to read this past month. I was super excited to start it and actually started it two weeks sooner than I was supposed to. SHUSH don't tell.
Anyway, let's get to the review shall we? Hunted by Meagan Spooner is in my opinion one of the best retellings of Beauty and The Beast that I've ever read/listened to. At first, it took me a few minutes to understand what was happening, each chapter starts out in the Beasts POV, but once I realized that, I couldn't stop reading. I needed to know what was about to happen. This book isn't like other retellings, mainly because I wasn't sure if that HEA was going to happen. It seemed at times that it wasn't and I wasn't sure how I would feel about that.
The writing style of this book is also very different which of course caught my attention right away and pulled me into the story even more. After awhile, when you read a few retellings of the same story things get repetitive. If I'm being honest, I get really bored after awhile and end up not finishing said book. It's already happened to me five times with Beauty and the Beast retellings, so I was a bit scared to read this one at first, but there was no stopping me once I started this one.
The audiobook narrators were perfection as well, which of course added great detail to the story and drew me into the plot even more. It's the reason I wanted to listen to this one instead of just reading it. I loved the male voice in this story and how he brought the beast to life.
I couldn't get enough of this story and honestly, I would have loved to read a sequeal, even though I doubt there will be one. Can't wait to read more from this author though and plan to do so in the future! If you are looking for the perfect retelling, pick up Hunted you won't regret it!
I'm pretty sure just by reading my review that you know what my rating is for this amazing book.
The Story Rating:
Here at Ali's Bookshelf we accept books in exchange for a honest review. The book above came from my own self. The Audio, I bought myself through Audible. I also use Amazon Affiliate links at times.