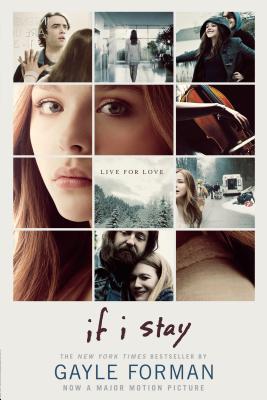 Title:
If I Stay
Author:
Gayle Forman
Publisher:
Speak
Format:
Paperback
Pages:
259 pages
Date Published:
April 2nd 2009 (first published)
ISBN#:
0147514533
The critically acclaimed, bestselling novel from Gayle Forman, author of Where She Went, Just One Day, and Just One Year. In the blink of an eye everything changes. Seventeen-year-old Mia has no memory of the accident; she can only recall what happened afterwards, watching her own damaged body being taken from the wreck. Little by little she struggles to put together the pieces- to figure out what she has lost, what she has left, and the very difficult choice she must make. Heartwrenchingly beautiful, this will change the way you look at life, love, and family. ' Now a major motion picture starring Chloe Grace Moretz, Mia's story will stay with you for a long, long time.
There is so much I could say about this book, but at the same time I have no idea where to start. I will say that I read the book after I had seen the movie, which is something I usually don't do. Not that it's a bad thing, but I knew after seeing the movie that I had to read the book. With that being said it's also a book that's been on my TBR shelf for a few years, actually since about 2009. After seeing the movie and finally reading the book, I wanted to kick myself for not reading it sooner. Don't you just hate when that happens? I know it drives me nuts!
Anyway, let's discuss the actual book shall we. If I Stay had me mesmerized from the first few lines. I knew I was going to love this book, but honestly I wasn't sure how much was in the movie and how much had been changed. I enjoyed the movie, but honestly I loved the book so much more. The characters and how they dealt with everything is better described throughout the book and it made them more real to me then they were in the movie.
The plot, oh my God this plot. I was in tears one minute, laughing the next, then crying all over again. If you haven't read this book, make sure you have about two boxes of tissues with you when you do, fair warning. I loved the way author Gayle Forman's writing style just made me love everything about Mia and every other characters relationships. I really enjoyed how it goes back and forth between the memories and the present. At first, I'll be honest, if I hadn't watched the movie first that would have drove me nuts about the book. In the end though I loved it.
All in all, If I Stay is one of my favorite reads and I need to read more books from this fantastic author.
I'm pretty sure you can guess what rating I'm about to say for If I Stay, but I'm going to tell you anyway!
Here at Ali's Bookshelf we accept books in exchange for a honest review. The book above though I bought for myself . I also use Amazon Affiliate links at times.