Every Heart A Doorway by Seanan McGuire
Published:
April 5th 2016
Publisher: Tor.com
ISBN #: 0765385503
Challenges: Goodreads, 2018 Bookish Resoulution
Date Read:
Feb. 13th 2018
Eleanor West's Home for Wayward Children
No Solicitations
No Visitors
No Quests

Children have always disappeared under the right conditions; slipping through the shadows under a bed or at the back of a wardrobe, tumbling down rabbit holes and into old wells, and emerging somewhere... else.

But magical lands have little need for used-up miracle children.

Nancy tumbled once, but now she's back. The things she's experienced... they change a person. The children under Miss West's care understand all too well. And each of them is seeking a way back to their own fantasy world.

But Nancy's arrival marks a change at the Home. There's a darkness just around each corner, and when tragedy strikes, it's up to Nancy and her new-found schoolmates to get to the heart of the matter.

No matter the cost.
I'm not even sure where to start this review when it comes to this book and how much I loved it! When I was a kid I loved the books where children walked through wardrobes or flew over the rainbow to other worlds, they were ultimately my favorite books. This book/series takes it a step forward to what happens after they come back and that I absolutely love!
Let's talk about the plot first, like I said above it's one that I can't get enough of and honestly I can't wait to read the next two books. I'm hoping the author writes more books in this series. I need to know what happened to all of the characters in this book. Especially Jack and Jill, which are two side characters, but they are both so interesting. The main plot is one that caught my attention right away, even the first page caught my attention right away and the best thing about these books is that they aren't very long but they are jam packed full of plot/story.
I connected with each of these characters right away even though you really don't get to know that much about them in the first book. You do get to know Nancy a little and Miss West a lot more toward the end of book one, but the rest of the characters not so much. Which made me want to read more of this series even more.
Now I want to talk about the writing style of this amazing author, her style is one that took me a few minutes, yep only a few minutes, to get used to. It's a little different than others and honestly I love that. I get so bored when it comes to the cookie cutter writing I've been reading lately, I've been needing something new and this was it. I couldn't get enough of this book and I'm so happy there are more to read. (Spoiler: I've already read the next one by the time your reading this review lol)
I must not forget the world building that this wonderful author has created and it's not just one world it's a few, one for each child or siblings and that in itself had to be so incredibly hard. I don't know how she did this but I'm so thankful that she did. Nothing is generic either, each one has all these little details that are just perfection and even in the first book you see that. Just another way to pull you in as an reader.
I have to mention the covers of this series! OMG I mean look above at the one for this book, it's amazing and beautifully done! They are some of the prettiest and daunting covers I've ever seen. Just adding more want for me to read them.
All in all this is a wonderful and fast read that I couldn't get enough of. I can't wait to see what happens next in this series! If you haven't read this series, I highly recommend it and is now on the top of my list of to finish series.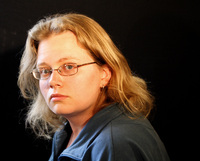 Over all I'm giving Every Heart a Doorwary a Ali's Bookshelf...
Plot: 20/20
Writing: 20/20
Creativity: 20/20
Characters: 19/20
Ending: 10/10
Cover: 10/10
Here at Ali's Bookshelf we accept books in exchange for a honest review. However, the book above was one that I bought and decided to review. We also use Amazon Affiliate links at times.