So Sitten on the Shelf is a post that I added to my blog a long time ago and it's one that I really want to bring back for many reasons. One of those reasons is that my TBR pile is huge, like extreamly huge and I need to start reading these books or unhauling them.

That's the main goal with the new Sittin on the Shelf here at Ali's Bookshelf. When I first started posting these posts here, I had gotten the idea from a great blogging friend. Her blog was On My Reading Pile, but sadly she's not blogging anymore there.

Then the other day I found a similar post over at Kimberlyfaye Reads and her TBR Thursday posts made me really want to bring back this post. So a huge thanks to her for that. If you haven't read her blog, you really should! Her posts are fantastic! Her blog is quickly becoming one of my favorite blogs.

I have a few questions that I'm going to answer for each book and then I'm going to ask your opinion. I would love to hear your thoughts about these books. Seriously, I need your help!!!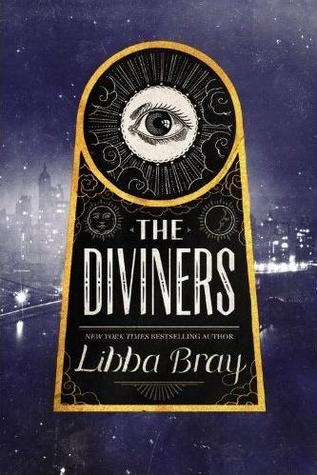 Title: The Diviners
Author: Libba Bray
Publisher: Little, Brown Books for Young Readers
Published: September 18th 2012
Format:
Hardcover
Pages:
578 pages
Evie O'Neill has been exiled from her boring old hometown and shipped off to the bustling streets of New York City—and she is pos-i-tute-ly ecstatic. It's 1926, and New York is filled with speakeasies, Ziegfeld girls, and rakish pickpockets. The only catch is that she has to live with her uncle Will and his unhealthy obsession with the occult.

Evie worries he'll discover her darkest secret: a supernatural power that has only brought her trouble so far. But when the police find a murdered girl branded with a cryptic symbol and Will is called to the scene, Evie realizes her gift could help catch a serial killer.

As Evie jumps headlong into a dance with a murderer, other stories unfold in the city that never sleeps. A young man named Memphis is caught between two worlds. A chorus girl named Theta is running from her past. A student named Jericho hides a shocking secret. And unknown to all, something dark and evil has awakened.
This book has been on my TBR shelf since the day it was released! I'm not kidding, there is a reason I haven't gotten to it and I'll share that in a few minutes. Honestly, I've noticed a lot of readers saying the same thing about this book, so I don't feel too bad about it.
Why I haven't read this book yet?
Alright let's get down to the real reason I haven't read this book...size! Yep size matters when you have a reading goal for the year and the book you want to read is huge. Like this one above, which is the main reason I haven't read this book. This book is huge!
What I Plan On Doing?
My plan is simple, I purchased the book on audio, figured it would make it not as daunting to read and I was told that the audio is amazing! So I'm super excited again to read this one, or rather listen to it.
What Do You All Think I Should Do?
So have you read this book? Should I be this scared to read such a large book? Did you listen to it? I'm excited to do so, I hope I'm going about this one the right way.