Today I'm excited to share my thoughts on this fantastic book and I can't wait to hear your thoughts as well. So let's get to it!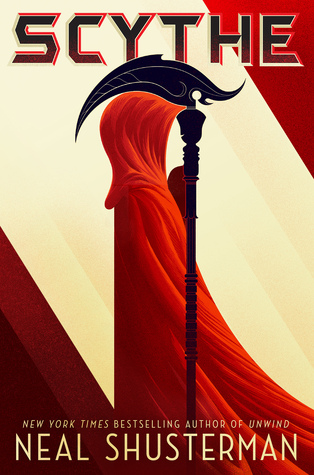 Scythe by Neal Shusterman
Publisher: Simon Schuster Books for Young Readers
Published: November 22nd 2016
Format: Audiobook
Date Read: Feb 1 2018 - Feb 8 2018
Series: Arc of a Scythe #1
Challenges: 2018 Bookish Resolutions Challenge
ISBN#: 1442472421
Thou shalt kill.

A world with no hunger, no disease, no war, no misery. Humanity has conquered all those things, and has even conquered death. Now scythes are the only ones who can end life—and they are commanded to do so, in order to keep the size of the population under control.

Citra and Rowan are chosen to apprentice to a scythe—a role that neither wants. These teens must master the "art" of taking life, knowing that the consequence of failure could mean losing their own.
I'm not sure why I waited so long to read this book, but honestly I wish I hadn't. I had heard so many great things about Scythe and by the time Thunderhead, the next book in the series was released, I knew I had to pick this one up and read it. The best part is I wasn't disappointed and when I say I couldn't put this one down I mean it. I listened to it every day in my car on the way to work and once I arrived at work, I didn't want to stop, sadly I had to, but as soon as I was back in my car I started listening to it as fast as I could.
Scythe is a very different and interesting take on futuristic and dystopian death. Mainly the two main characters, Citra and Rowan are picked to become what they call Scythe's. The Scythe's decide who is going to die and in the time of the book it's the only way to die. There is no sickness or even if you jump off of a building and
splat
to the ground you still recover. At first neither of the two main characters want to be Scythe's but so many twists and turns happen in this book that by the end you are cheering them both on. As well as the other characters in the book, I actually caught myself screaming in my car when a few things happened and there were so many feels with this story that I didn't see coming.
I know I've said this a few times in other reviews, but I love a book that I don't see the ending coming and this was defiantly one of those books. I didn't guess half the stuff that happened in this book and I can't wait to read the next one. (Actually I already started listening to it today!) The characters in this story are easy to connect with and their stories and paths that lay before them for them to choose just makes you want to dive further into their story. The author has a way to just pulling you in and not letting you go. Even after the last word is read of the book. I need more books like this!
If you haven't read Scythe yet, I highly recommend you pick up a copy right away. It's become one of my favorite books I've read so far this year. Honestly, I can't say enough great things about this book, you'll just have to pick it up and see for yourself.
I'm pretty sure you've already seen my rating above, but just in case!
I would also give the audiobook version the same rating!
I hope you enjoyed this review, if you haven't read this book, like I said above it's a must. If you have, please let me know your thoughts in the comments below. I would love to hear from you!


Here at Ali's Bookshelf we accept books in exchange for a honest review. The book above was one that I purchased for myself. I also use Amazon Affiliate links at times.