Review: The Fault In Our Stars by John Green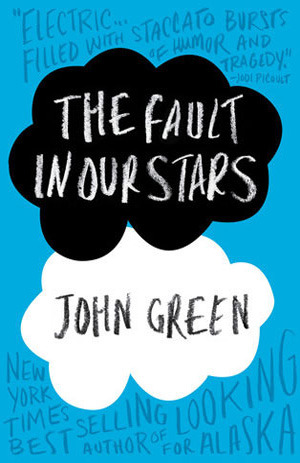 Title:
The Fault In Our Stars
Author:
John Green
Publisher:
Dutton Books
Published Date:
Jan 10th, 2012
Format:
Paperback
Pages:
318 Pages
ISBN #:
0525478817
Despite the tumor-shrinking medical miracle that has bought her a few years, Hazel has never been anything but terminal, her final chapter inscribed upon diagnosis. But when a gorgeous plot twist named Augustus Waters suddenly appears at Cancer Kid Support Group, Hazel's story is about to be completely rewritten.
My first thought when I started this book was where are my tissues, I had already known beforehand that this one was going to make me cry. Being warned beforehand kind of helped though, I didn't have to go searching for tissues when that time came. The Fault In Our Stars follows a girl who has cancer, terminal cancer is the actual word for it. Hazel doesn't have friends, finished school early, and worries about what will become of her parents after she dies, but during all of the battles she faces she meets
Augustus
Waters, a charming boy, who is in remission from a type of bone cancer that had taken his leg. He flips her world upside down and shows her what love is really like.
This was the first John Green book that I have read and since then I have picked up a few more, mainly because I love his writing style and the way he tells a story. To pick a favorite character in The Fault In Our Stars is something that I can't do, they were all my favorite, even the author that I wanted to throttle at times in this book. Telling this story in the point of view of Hazel Grace was pure genius.
The Fault In Our Stars isn't just a book about young love, it's about life, death and why things happen in our life's that could potentially crush us and send us into oblivion. They are hard hitting thoughts and when you are reading this book they are things that will grab you and make you wonder the big "W" question, WHY?
To say that I simply enjoyed this book is an understatement. It's a book that seeped into my soul, I know totally corny way of saying something, but it's the truth. It's a book that made me think and I really wish more books would do that.
I also want to say that the ending wasn't as predictable as I thought it was going to be. Spoiler alert, one of the characters does die, but the rest of the story came as a bit of a surprise to me. I guess you will just have to read it to find out what I mean.
I recommend this book to pretty much anyone I know, it's a book that will forever have a place on my bookshelf! Okay, Okay.
To give this book a rating was very simple for me. Of course I gave The Fault In Our Stars a...
Plot: 20/20
Writing: 20/20
Creativity: 20/20
Characters: 20/20
Ending: 10/10
Cover:
10/10
I adored every part of this book, and before you ask, yes even the parts that made me cry. So if you haven't read The Fault In Our Stars yet, it's a must read!!!
Here at Ali's Bookshelf we accept books in exchange for a honest review. The book above is one that I bought myself, but I still wanted to review it. We also use Amazon Affiliate links at times