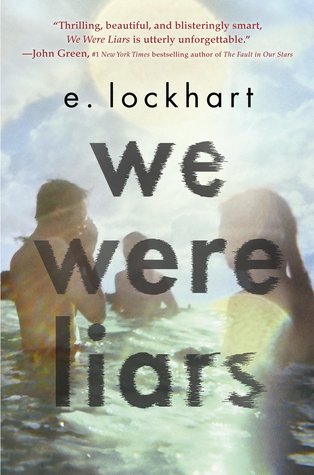 Title: We Were Liars
Author: E. Lockhart
Publisher: Delacorte Press
Published: May 13th, 2014
Format: Ebook (ARC Given to me by by publisher through Netgalley)
ISBN:
038574126X
Genre:

Young Adult, Contemporary
A beautiful and distinguished family. A private island. A brilliant, damaged girl; a passionate, political boy. A group of four friends—the Liars—whose friendship turns destructive. A revolution. An accident. A secret. Lies upon lies. True love. The truth. We Were Liars is a modern, sophisticated suspense novel from National Book Award finalist and Printz Award honoree E. Lockhart. Read it. And if anyone asks you how it ends, just LIE.
First off I want to start this review off by saying that if and when this author releases her next book that I will rush to the store or over to Amazon and buy it. That's how wonderfully written We Were Liars is written. This book was a page turner, one that grabbed me from the very first line and didn't let go, not even after I was done reading the book.
At first I thought it was going to be all predictable, but I soon found out how wrong I was. I went into reading We Were Liars with no spoilers. I hadn't even read the summary, I was afraid it would give too much away, so instead I just jumped right in and I'm so happy that I did. If you haven't read this book, it's the way I suggest you read We Were Liars as well. I mean it, if you haven't read it and you are reading this review, stop right now and go read this book.
Let's talk about the characters in this incredible contemporary young adult book that I have dubbed to be one of the best books released this year. The main family in this story are the Sinclairs and when I say family, I mean all of them. From Grandma and Grandpa to each of the aunt and uncles to all the cousins. Each and every one of them play a role in this story and I really enjoyed that about this book. Starting out the main character, who is our narrator of this one, starts by saying that the Sinclairs are not criminal, addicts, or failures. Right away I got the feeling that they were one of those families that are snobby and uppity. You know the ones, I know you do, the ones that think they are better than everyone else, because they have money. But, as the facade crumbles you find out that what you see isn't what you always get. I can't say more than that though, I do not want to spoil the plot for anyone.
Next I want to talk about the world building, this is a contemporary book, but when the family is on its private island it feels like the author created her own little world. I really enjoyed how each family had their own place on the island, how it was a tradition to spend the summer there all together. E. Lockhart, really went into detail about what each house looked like and how the whole island was laid out and I think the way she did that was perfect. It wasn't jam packed information right off the bat, it was spaced out. Also, in the paperback and hardback copies, there is a map of the island and a family tree, which of course I love!
We Were Liars, isn't like any other book that I have read and like I said in the beginning of my review, I can't wait for E. Lockhart to write more books. She definitely has a way with words. I know I said I'm not going to spoil anything, but make sure you have some tissues handy when reading this one. Trust me!
Plot: 20/20
Writing: 20/20
Creativity: 20/20
Characters: 20/20
Ending: 10/10
Cover: 10/10
This is one of my favorite book releases this year, that's why it got a perfect score.
Here at Ali's Bookshelf we accept books in exchange for a honest review. The book above came from the publisher through Netgalley. We also use Amazon Affiliate links at times