My On My Wishlist includes books that are older and already out and ones that are brand new or not even out yet! So lets get to it. Today I bring you 3 books that I am dying to get my hands on. I will be updating these when I get any of these books...
So the first one I want to showcase is...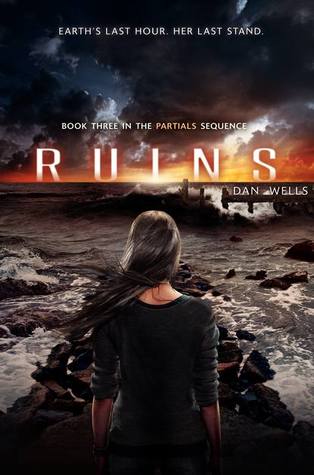 Author: Dan Wells
Kira, Samm, and Marcus fight to prevent a final war between Partials and humans in the gripping final installment in the Partials Sequence, a series that combines the thrilling action of The Hunger Games with the provocative themes of Blade Runner and The Stand. There is no avoiding it—the war to decide the fate of both humans and Partials is at hand. Both sides hold in their possession a weapon that could destroy the other, and Kira Walker has precious little time to prevent that from happening. She has one chance to save both species and the world with them, but it will only come at great personal cost.
Title: Time After Time
Author: Tamara Ireland Stone
Publisher: Disney-Hyperion
Calling Anna and Bennett's romance long distance is an understatement: she's from 1995 Chicago and he's a time traveler from 2012 San Francisco. The two of them never should have met, but they did. They fell in love, even though they knew they shouldn't. And they found a way to stay together, against all odds. It's not a perfect arrangement, though, with Bennett unable to stay in the past for more than brief visits, skipping out on big chunks of his present in order to be with Anna in hers. They each are confident that they'll find a way to make things work...until Bennett witnesses a single event he never should have seen (and certainly never expected to). Will the decisions he makes from that point on cement a future he doesn't want? Told from Bennett's point of view, Time After Time will satisfy readers looking for a fresh, exciting, and beautifully-written love story, both those who are eager to find out what's next for Time Between Us's Anna and Bennett and those discovering their story for the first time.
Title:
The Girl Who Never Was
Publisher:
Sourcebooks Fire
THE GIRL WHO NEVER WAS is the story of Selkie Stewart, who thinks she's a totally normal teenager growing up in Boston. Sure, her father is in an insane asylum, her mother left her on his doorstep—literally—when she was a baby, and she's being raised by two ancient aunts who spend their time hunting gnomes in their Beacon Hill townhouse. But other than that her life is totally normal! She's got an adventurous best friend who's always got her back and an unrequited crush on an older boy named Ben. Just like any other teenager, right? When Selkie goes in search of the mother she's never known, she gets more than she bargained for. It turns out that her mother is faerie royalty, which would make Selkie a faerie princess—except for the part where her father is an ogre, which makes her only half of anything. Even more confusing, there's a prophecy that Selkie is going to destroy the tyrannical Seelie Court, which is why her mother actually wants to kill her. Selkie has been kept hidden all her life by her adoring aunts, with the help of a Salem wizard named Will. And Ben. Because the boy she thinks she's in love with turns out to be a faerie whose enchantment has kept her alive, but also kept her in the dark about her own life. Now, with enchantments dissolved and prophecies swinging into action, Selkie finds herself on a series of mad quests to save the people she's always loved and a life she's learning to love. But in a supernatural world of increasingly complex alliances and distressingly complicated deceptions, it's so hard to know who to trust. Does her mother really wish to kill her? Would Will sacrifice her for the sake of the prophecy? And does Ben really love her or is it all an elaborate ruse? In order to survive, Selkie realizes that the key is learning—and accepting—who she really is
SO there is another great wishlist, I will cross out any that I get just so you all know if I have them or not. Thanks for stopping by and as always...Happy Reading!!!