Review: The One by Kiera Cass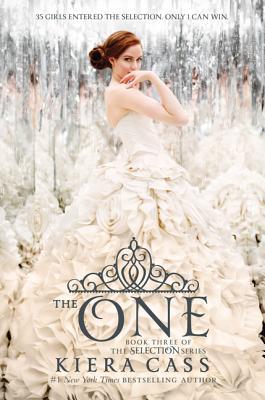 Title: The One
Author: Kiera Cass
Publisher: HarperCollins Children's Books
Published Date: May 6th 2014
Format: Hardback
The highly anticipated third book in Kiera Cass's #1 New York Times bestselling Selection series, The One will captivate readers who love dystopian YA fiction and fairy tales. The One is perfect for the fans who have followed America's whirlwind romance since it began—and a swoon-worthy read for teens who have devoured Veronica Roth's Divergent, Ally Condie's Matched, or Lauren Oliver's Delirium. The Selection changed America Singer's life in ways she never could have imagined. Since she entered the competition to become the next princess of Illéa, America has struggled with her feelings for her first love, Aspen—and her growing attraction to Prince Maxon. Now she's made her choice . . . and she's prepared to fight for the future she wants. Find out who America will choose in The One, the enchanting, beautifully romantic third book in the Selection series!
The One by Kiera Cass has to be my favorite so far in The Selection series, I originally thought it had been the first book, but now that I have read The One. This series in all honesty is one that I could re-read over and over and still love it. With all that said, let's discuss The One.
I did however still have a few problems with America, it drove me crazy that still in the third book she had a hard time choosing. I would have thought she had made her mind up in the second one, but no. The other characters I still love, there is more of her family in this one and I really enjoyed that part of the book.
Let's talk about the plot of this fantastic book, the third one gah the ending is just what I wanted to happen, scratch that I wanted what every one wants for the lovers to be together, the way it happened wasn't what I expected. I did enjoy it all the same though.
Another thing that I really enjoyed about this book and all the books in this series is the authors writing style. Kiera Cass has a way with words. You know that rule about authors not telling but they should show what is happening with their words, yeah author Kiera Cass does just that with every one of her books.
If you loved the first two books in The Selection series you will love the third. Great thing about this book, is that I thought it was the last and I was a bit sad when it ended. But this fantastic author is now writing more books for the series and I can't wait.

I have to give The Selection by Kiera Cass an Ali's Bookshelf...
Plot: 20/20
Writing: 20/20
Creativity: 20/20
Characters: 20/20
Ending: 10/10
Cover: 10/10
Here at Ali's Bookshelf we accept books in exchange for a honest review. However, the book above was one that I bought and decided to review. We also use Amazon Affiliate links at times.