Review: The Winter People by Rebekah L. Purdy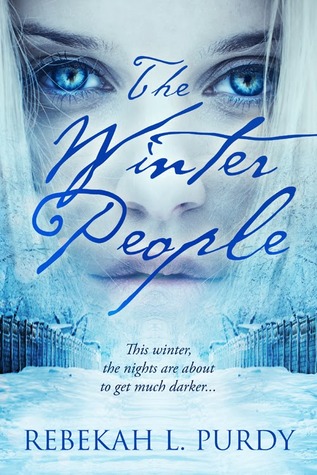 Title: The Winter People
Author: Rebekah L. Purdy
Publisher: Entangled: Teen
Published Date: September 2nd 2014
Format: ebook (ARC)
ISBN #: 1622663683
An engrossing, complex, romantic fantasy perfect for fans of Kristin Cashore or Maggie Stiefvater, set in a wholly unique world. Salome Montgomery fears winter—the cold, the snow, the ice, but most of all, the frozen pond she fell through as a child. Haunted by the voices and images of the strange beings that pulled her to safety, she hasn't forgotten their warning to "stay away." For eleven years, she has avoided the winter woods, the pond, and the darkness that lurks nearby. But when failing health takes her grandparents to Arizona, she is left in charge of maintaining their estate. This includes the "special gifts" that must be left at the back of the property.
 
 Salome discovers she's a key player in a world she's tried for years to avoid. At the center of this world is the strange and beautiful Nevin, who she finds trespassing on her family's property. Cursed with dark secrets and knowledge of the creatures in the woods, his interactions with Salome take her life in a new direction. A direction where she'll have to decide between her longtime crush Colton, who could cure her fear of winter. Or Nevin who, along with an appointed bodyguard, Gareth, protects her from the darkness that swirls in the snowy backdrop. An evil that, given the chance, will kill her.
Alright let's talk about The Winter People by Rebekah L. Purdy. The first thing I want to say is that it does start out a bit slow, but all in all this is a great book. There are a few things that I didn't really care for and I want to get them out of the way really quick so we can talk about the things I love.
First thing that I kind of had a problem with was that she fell in love with 3 guys. It was a bit to much insta-love for me. I'm good with a love triangle, but if they fall in love right away without that build up, it just irks me. That kind of love doesn't exist and I just can't stand it in books. I would rather it feel real. In all honesty I couldn't stand that she just couldn't make up her mind which one she wanted. I think if those things were changed I would have loved this book even more than I already do.
Now with all that out of my system, let's talk about the things that I loved about this book. First would have to be this cover! I mean look at it. It's perfection at it's finest. I love the colors and her eyes just pop right out at you. The next thing I really loved is the whole curse thing. It was fun getting to know more about it and I loved that I had no clue where this book was going to go the whole time I was reading. I will say one thing about the writing style as well, I enjoyed how different it was. It was if I could almost hear the narrators voice as I was reading and that isn't something that happens very often.
All in all The Winter People is a fantastic book. I would recommend it to my friends that love fantasy, magic, and of course a bit of a curse.
I'm giving The Winter People a Ali's Bookshelf...
Plot: 20/20
Writing: 19/20
Creativity: 19/20
Characters: 18/20
Ending: 10/10
Cover: 10/10
Here at Ali's Bookshelf we accept books in exchange for a honest review. The book above came from the publisher through Netgalley. We also use Amazon Affiliate links at times.