Review: Eleanor & Park by Rainbow Rowell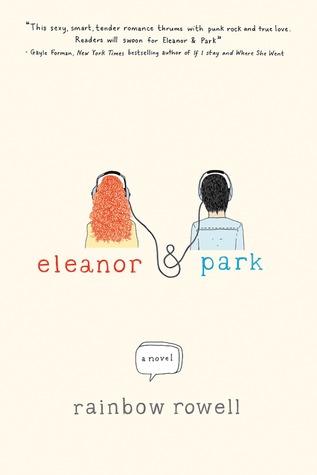 Title: Elanor & Park
Author: Rainbow Rowell
Publisher: St. Martain's Griffin
Published Date: February 26th 2013
Format: Paperback
Two misfits. One extraordinary love. Eleanor... Red hair, wrong clothes. Standing behind him until he turns his head. Lying beside him until he wakes up. Making everyone else seem drabber and flatter and never good enough...Eleanor. Park... He knows she'll love a song before he plays it for her. He laughs at her jokes before she ever gets to the punch line. There's a place on his chest, just below his throat, that makes her want to keep promises...Park. Set over the course of one school year, this is the story of two star-crossed sixteen-year-olds—smart enough to know that first love almost never lasts, but brave and desperate enough to try.
So this is the second Rainbow Rowell book that I've read and enjoyed. I usually don't enjoy contemporary YA as much as I have enjoyed reading this authors books. Really I think it all comes down to the plot when it comes to contemporary, so many of the genre's books are the same and after awhile it gets annoying to me, but with this particular author, it doesn't seem to have that effect on me. Her plots vary and this book kind of connected with me on a few different levels.
First let's talk about the two main characters, Eleanor and Park. I really connected with Eleanor on a few levels, one being that in this book she is made fun of by kids in school. I know how that feels, for I was too. Then there is Park, the sweet guy who at first didn't think much of Eleanor, then once he got to know her he grew to really love her. That was one of the best parts for me in this book, watching him fall for her and her letting herself open up to him. All of this made this great book believable to me.
Now I want to talk a bit about the writing style of Rainbow Rowell for this book, she has a way that she writes that every situation seems so real, so easy to see happening in real life. I love that the most about her books and Eleanor & Park is no exception. I loved the way this book ended as well, I was hoping beyond begging that it would end this way and I was so happy that it did. I did however cry a bit when reading this one. I also will confess that I wanted to throw my copy of this book across the room at a few points while reading, but I couldn't because I had to know what was about to happen next.
I would recommend this book to any young adult contemporary lover and any one that just wants a sweet story that has it's ups and downs for the characters. I would recommend anything by this author to anyone that loves Young Adult contemporary.
I am very proud to give Eleanor & Park an Ali's Bookshelf puppy rating of...
Plot: 20/20
Writing: 20/20
Creativity: 20/20
Characters: 20/20
Ending: 10/10
Cover: 10/10
Here at Ali's Bookshelf we accept books in exchange for a honest review. The book above was one that I bought and decided to review. We also use Amazon Affiliate links at times.