Today is the day for me to share these three amazing books with all of you. The Neumarian Chronicles is made up of Escapement, Pendulum, and Balance by Ciara Knight. Later today I have a review of each book for you, but right now here is some information about each and this fantastic author. Plus, two...yep I said two great giveaways.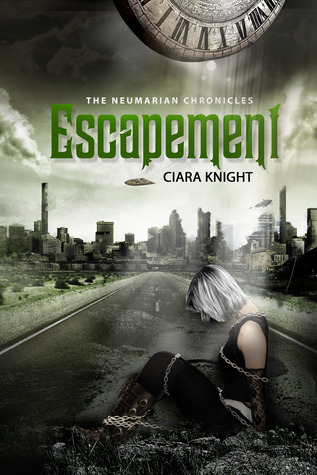 Ten years after the great war of 2185 the queen's reign is threatened by uprisings and fear. In celebration of my sixteenth birthday it is my duty as princess to sacrifice a slave to be initiated into the ruling council, solidifying my mother's empire. When my own erratic powers surface I'm captured and tried for treason. Slaves hate me, my mother wants me executed, and my only chance of survival rests in the hands of a young man, Ryder Arteres, whose sister I sentenced to death.
Haunting memories. Terrifying dreams. Crippling lies. Trapped in a world of deception, my sanity rests with the love of Ryder Arteres and our renegade friends. Six months of scouring the ocean floor in a rebel ship fleeing our homeland, delivers us to a possible alliance with the opportunistic European Council. Our only hope is to utilize our forbidden gifts to free our people from slavery, proving our worth. But when a trusted ally turns traitor and a new breed of the queen's weaponry is revealed, I'm forced to face the terror of my past to save our crumbling future.
Life on a war-ravaged Earth is a dying experience. Finally, after years of tyranny, the rebellion rises. Once I rescue my fiancé Ryder Arteres, I, and the rebel general, will fight to free our people. In a war where alliances shift and friends betray one another, will the final battle prove the truth of the prophecy the queen has so feared—her death—or will I lose everyone I love?
Ciara Knight writes to 'Defy the Dark' with her young adult speculative fiction books. Her most recent Amazon best-seller, Escapement, book I of The Neuamrian Chronicles, released to acclaimed reviews securing a Night Owl Top Pick and five stars from InD'Tale Magazine. When not writing, she enjoys reading all types of fiction. Some great literary influences in her life include Edgar Allen Poe, Shakespeare, Francine Rivers and J K Rowling. Her first love, besides her family, reading, and writing, is travel. She's backpacked through Europe, visited orphanages in China, and landed in a helicopter on a glacier in Alaska.
Links:
Like I said above we have two great giveaways for you. The first one is for an ebook of the winners choice from the three books in this series.
All you have to do to win this is comment below, let me know which of the three you would like and the format. I will use random.org generator to pick the winner. This giveaway will be open till Oct. 18th and announced on the 19th of Oct. The prize will be sent out after the 21st though.
Now for the other giveaway. It will end on the Oct. 7th and is for:
Signed copy of Escapement by Ciara Knight (US only)
25 $ Amazon Gift Card (INTL)
a Rafflecopter giveaway