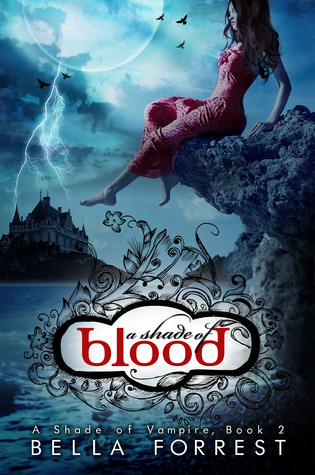 Title:
A Shade of Blood
Author:
Bella Forrest
Series:
A Shade of Vampire Book #2
Date Published:
April 8th 2013
Format:
Ebook
Pages:
340 pages
ASIN #:
B00C8324IS
In A Shade Of Blood, Bella Forrest transports you deeper into a unique, enthralling and beautifully sensitive story. Prepare to be lost in its pages… When Sofia Claremont was kidnapped to a sunless island, uncharted by any map and ruled by the most powerful vampire coven on the planet, she believed she'd forever be a captive of its dark ruler, Derek Novak. Now, after months of surviving an endless night, the morning sun may soon rise again for Sofia. Something has possessed Derek's heart and he offers her a gift no human slave has ever been given in the history of his cursed island: escape. High school, prom and a chance to move on with her life now await her. But will she be able to forget the horrors that steal her sleep away at night? … and the feelings that haunt her for that tormented prince of darkness?
In the second book of this fantastic series, we once again follow the story of Sofia and her beloved Prince of the Shade, but will is she really in love with him or does she just think she is? That's the main question that has gone through my head the whole time while reading this one. Author Bella Forest is an author that can describe things and every time you read a word you can picture said item in your head.
For instance, the buildings/houses in the shade.
I can picture the Princes tree house in my mind clearly.
I really love that about these books, her descriptions are so vivid and come to life as you read the story.
I'm still not sure about the Prince though, I don't want to give any spoilers away, but let's just say I was a bit more sure about what he wanted and what he was feeling by the end of this book.
Which of course made me very happy, because I wasn't so sure in the first book.
The characters in this series are fantastic and I'm really enjoying the growth I'm seeing in each one of them.
Including all the other vampires in the Shade, you really get to know a few other's in this book, which again made me really happy.
Sophia is the one that surprised me more in this book than she had in the first.
Let's just say, she's a bit stronger than I was giving her credit for in the first one.
Again, A Shade of Blood is told in three point of views, which at first I didn't enjoy, but now I am starting to really love.
You get to see the story from a different angle so to say.
I was a bit taken back by a few of the new characters though and not sure what to think about them, even now that I've finished the book.
One in particular comes in at the very end and I was just staring at my Kindle like
oh crap what's going to happen now?
So I can't wait to start reading the next book.
So glad I already have the next and don't have to wait to read it.
All in all, A Shade of Blood is a book that I would recommend to any of the Vampire loving Young Adult book readers out there.
I hadn't read a vampire book in a while before I started this series and now I'm head over heels for it.
The authors writing voice is perfection and even though there are so many books in this series, I'm not stopping now.
I can't wait to see what will happen and I'm pretty sure you will feel the same way.
I have to give A Shade of Blood an Ali's Bookshelf
Here at Ali's Bookshelf we accept books in exchange for a honest review. The book above though I bought for myself, but still wanted to review it.