Alright, it's time for another great cover reveal. You all know I love covers and honestly it's the first thing we see when it comes to a book on a shelf, so let's check this one out and see what we think. I've decided to do cover reveal posts a bit different, I'm going to show you the summary and all the information about the book before I show you the cover. Then I'll tell you my thoughts and hopefully you will share your own in the comments below.
Title:
Until We Meet Again
Author: Renee Collins
Publisher:
Sourcebooks Fire
They exist in two different centuries, but their love defies time. Cassandra is a headstrong teenager craving drama and adventure, so the last thing she wants is to spend her summer marooned with her mother and new stepfather in a snooty Massachusetts shore town. But when a dreamy stranger named Lawrence shows up on their private beach claiming it's his own—and that the year is 1925—she is swept into a mystery a hundred years in the making. As she searches for answers in the present, Cassandra discovers a truth that puts their growing love—and Lawrence's life—in jeopardy. Desperate to save him, Cassandra must find a way to change history—or risk losing Lawrence forever.
The Cover: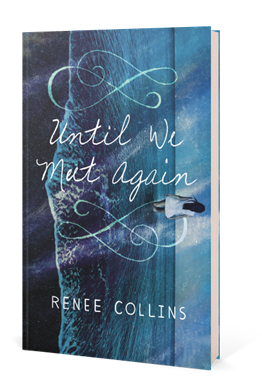 Alright so there you have it, now let's talk about this cover.
My Thoughts:
First impressions mean everything to me as a reader and if I saw this cover on the shelf, I would pick it up to read the summary on the back cover. I really like the colors and the sideways look of it. My only complaint about it is the swirly things above and below the title, to me it's a bit over done. Seen a lot of covers with the same exact thing. But over all this is a great cover.
What do you all think? Would you pick this book up just by looking at the cover? Would you buy it based on the summary?
Also, wanted to let you know that the amazing publisher is doing a giveaway for an arc copy of this book. All you have to do is retweet this cover, you can even retweet the tweet that I'll be posting shortly. That will enter you in the giveaway. Good Luck!