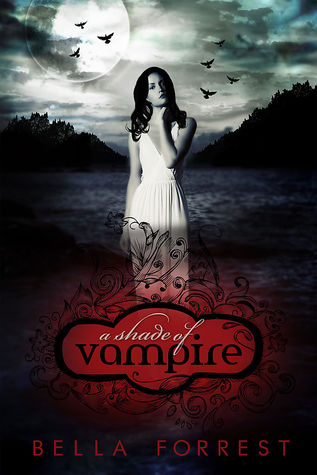 Title:
A Shade of Vampire
Author:
Bella Forrest
Publisher:
CreateSpace
Series:
A Shade of Vampire #1
Published Date:
December 17th 2012
Format:
Ebook
Pages:
154 pages
Genre:
Young Adult, Paranormal
ISBN #:
1481280767
On the evening of Sofia Claremont's seventeenth birthday, she is sucked into a nightmare from which she cannot wake. A quiet evening walk along a beach brings her face to face with a dangerous pale creature that craves much more than her blood. She is kidnapped to an island where the sun is eternally forbidden to shine. An island uncharted by any map and ruled by the most powerful vampire coven on the planet. She wakes here as a slave, a captive in chains. Sofia's life takes a thrilling and terrifying turn when she is the one selected out of hundreds of girls to join the harem of Derek Novak, the dark royal Prince. Despite his addiction to power and obsessive thirst for her blood, Sofia soon realizes that the safest place on the island is within his quarters, and she must do all within her power to win him over if she is to survive even one more night. Will she succeed? ...or is she destined to the same fate that all other girls have met at the hands of the Novaks?
To say that I was pleasantly surprised by this book is an understatement, I bought this book from Amazon due to an ad I saw on Facebook. Yep I actually did that. I've been in a bit of a reading slump lately and this book and cover just jumped out at me. I started reading it that very minute, well as soon as it downloaded onto my Kindle, and didn't stop till I couldn't keep my eyes open any longer. I finished A Shade of Vampire the next night and bought the second book in the series right away. So yes, this is a book that I couldn't put down.
The main character in this book's name is Sofia and I really connected with her, she became my favorite right away. I haven't read a vampire book in awhile, like I mentioned above, and this one didn't disappoint. Sofia is kidnapped and brought to the Shade, as they call it, a place where a group of vampires live. She was meant to be part of the royal prince's harem, but when he wakes up from a long long sleep, he connects with her in a way that even he doesn't understand. Honestly, when he first wakes up in this book I could have sworn he was going to kill her right then and there and be done with it. That would have made for a very short book though.
The dynamic between Sofia and
Derek is one that I haven't seen in a book in a long time. You can feel the connection through the words perfectly. I really enjoyed the descriptions in this book as well, the author has a way of describing the Shade that makes you want to go there in person. With the Vampire houses in the air, up in the trees and the perpetual night, due to a witch keeping it that way. Really enjoyed the mixture of witch, vampire and human in this book as well.
The ending of this one is a bit sad though, so fair warning. I won't give any spoilers, just remember to grab a box of tissues and keep them by you as you read the last chapter.
I really don't want to say this book is like Twilight, because honestly its better, as far as the writing, really I don't know which book to compare this book to. I do recommend this book to anyone that has wanted to read a vampire book, but has been putting it off like I had. Anyone that is looking for something different to read, this book is exactly what you are looking for.
Oh and before I forget I want to mention the cover and the other covers of this series, yep it's a series of eighteen books by the way. Figured I would give you that heads up before you start it and get mad at me for getting you hooked and there are so many books. But anyway, I adore these covers! The colors and images are fantastic and the fonts fit the books perfectly. Also the titles are AMAZING!
"No. In my eyes, she was most beautiful because at a time when she had every right to be terrified, she managed to show comfort to another person who needed it."
If you don't already know the rating I'm about to give this book...I'm going to give A Shade of Vampire
Here at Ali's Bookshelf we accept books in exchange for a honest review. The book above though I bought for myself off of Amazon after seeing an Facebook Ad. We also use Amazon Affiliate links at times