I have so many books on my Kindle, ones that I keep forgetting I have. Not sure if you're like me, but Ive noticed when things (books) aren't in my eyesight I tend to forget them. With all the ebooks being on my Kindle and sort of tucked away, I don't always go looking on there to see what I have. Below are a few of the ones that I keep forgetting about, but would love to read soon! This is in no way a TBR post, because like I said in
THIS POST
, I will no longer post those type of posts.
I remember getting this book and so excited to read it mainly because everyone was talking about it and it's still just sitting on my Kindle, not touched.
Fall in love with The Simplicity of Cider, the charming new novel about a prickly but gifted cider-maker whose quiet life is interrupted by the arrival of a handsome man and his young son at her family's careworn orchard by the author of The Coincidence of Coconut Cake and Luck, Love & Lemon Pie.

Focused and unassuming fifth generation cider-maker Sanna Lund has one desire: to live a simple, quiet life on her family's apple orchard in Door County, Wisconsin. Although her business is struggling, Sanna remains fiercely devoted to the orchard, despite her brother's attempts to convince their aging father to sell the land.

Single dad Isaac Banks has spent years trying to shield his son Sebastian from his troubled mother. Fleeing heartbreak at home, Isaac packed up their lives and the two headed out on an adventure, driving across the country. Chance—or fate—led them straight to Sanna's orchard.

Isaac's helping hands are much appreciated at the apple farm, even more when Sanna's father is injured in an accident. As Sanna's formerly simple life becomes increasingly complicated, she finds solace in unexpected places—friendship with young Sebastian and something more deliciously complex with Isaac—until an outside threat infiltrates the farm.

From the warm and funny Amy E. Reichert, The Simplicity of Cider is a charming love story with a touch of magic, perfect for fans of Sarah Addison Allen and Gayle Forman.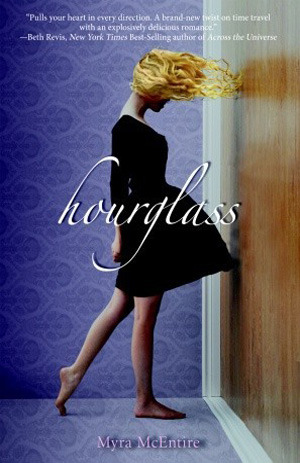 This is another one I bought mainly because I heard everyone talking about, some good and some not, but I wanted to give it a try. Plus look at this cover!
One hour to rewrite the past…

For seventeen-year-old Emerson Cole, life is about seeing what isn't there: swooning Southern Belles; soldiers long forgotten; a haunting jazz trio that vanishes in an instant. Plagued by phantoms since her parents' death, she just wants the apparitions to stop so she can be normal. She's tried everything, but the visions keep coming back.

So when her well-meaning brother brings in a consultant from a secretive organization called the Hourglass, Emerson's willing to try one last cure. But meeting Michael Weaver may not only change her future, it may also change her past.

Who is this dark, mysterious, sympathetic guy, barely older than Emerson herself, who seems to believe every crazy word she says? Why does an electric charge seem to run through the room whenever he's around? And why is he so insistent that he needs her help to prevent a death that never should've happened?
This is another one that I was dying to read, a friend told me about it and I couldn't wait to get my hands on it. Well guess what I never started the book mainly because so many more came up. The life of a book blogger LOL.
Sabriel is the daughter of the Mage Abhorsen. Ever since she was a tiny child, she has lived outside the Wall of the Old Kingdom--far away from the uncontrolled power of Free Magic, and away from the Dead who won't stay dead.

But now, her father is missing and Sabriel is called upon to cross into the world to find him, Leaving the safety of the school she has known as home, Sabriel embarks upon a quest fraught with supernatural dangers, with companions she is unsure of--for nothing is as it seems within the boundary of the Old Kingdom. There, she confronts an evil that threatens much more than her life, and comes face to face with her hidden destiny.
Another fantastic one that everyone told me to read but I never got around to it, then honestly forgot I had it on my kindle.
Nothing ever happens in Norway. But at least Ellie knows what to expect when she visits her grandmother: a tranquil fishing village and long, slow summer days. And maybe she'll finally get out from under the shadow of her way-too-perfect big brother, Graham, while she's there.





What Ellie doesn't anticipate is Graham's infuriating best friend, Tuck, tagging along for the trip. Nor did she imagine boys going missing amid rumors of impossible kidnappings. Least of all does she expect something powerful and ancient to awaken in her and that strange whispers would urge Ellie to claim her place among mythological warriors. Instead of peace and quiet, there's suddenly a lot for a girl from L.A. to handle on a summer sojourn in Norway! And when Graham vanishes, it's up to Ellie—and the ever-sarcastic, if undeniably alluring Tuck—to uncover the truth about all the disappearances and thwart the nefarious plan behind them.





Deadly legends, hidden identities, and tentative romance swirl together in one girl's unexpectedly-epic coming of age.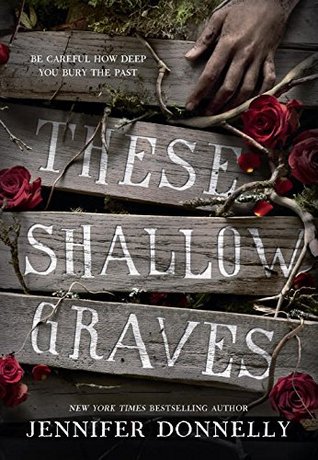 This was one that I had heard a lot about, but it's also an author that I own all her books. I really wanted to read it, but again it's just sitting there on my Kindle.
Jo Montfort is beautiful and rich, and soon—like all the girls in her class—she'll graduate from finishing school and be married off to a wealthy bachelor. Which is the last thing she wants. Jo secretly dreams of becoming a writer—a newspaper reporter like the trailblazing Nellie Bly.

Wild aspirations aside, Jo's life seems perfect until tragedy strikes: her father is found dead. Charles Montfort accidentally shot himself while cleaning his revolver. One of New York City's wealthiest men, he owned a newspaper and was partner in a massive shipping firm, and Jo knows he was far too smart to clean a loaded gun.

The more Jo uncovers about her father's death, the more her suspicions grow. There are too many secrets. And they all seem to be buried in plain sight. Then she meets Eddie—a young, brash, infuriatingly handsome reporter at her father's newspaper—and it becomes all too clear how much she stands to lose if she keeps searching for the truth. Only now it might be too late to stop.




The past never stays buried forever. Life is dirtier than Jo Montfort could ever have imagined, and the truth is the dirtiest part of all.
These are just a few of the amazing books I have on my Kindle, honestly it makes me sad looking at the ones I have and haven't read yet.
Am I the only one that feels this way? Am I the only one that has books on their Kindles and forget they are there? Please tell me I'm not the only one!