Review: Aimee and the Heartthrob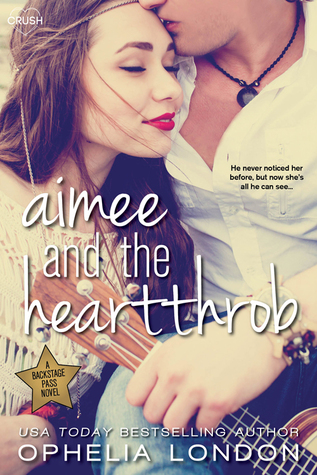 Title:
Aimee and the Heartthrob
Author:
Ophelia London
Publisher:
Entangled: Crush
Published:
April 14th 2015
Format:
EARC
Pages:
223 pages
ISBN #:
9781633752559
He never noticed her before, but now she's all he can see… Miles Carlisle is every teen girl's fantasy. His rugged good looks and exotic British accent have helped catapult his boy band, Seconds to Juliet, to super-stardom. But after two disastrous and very public breakups, Miles isn't interested in dating just any girl; he wants The One. And the only girl he's interested in is not only his best friend's little sister―and off-limits―but won't even give him the time of day… As a kid, Aimee Bingham had a huge thing for Miles…until he made fun of her for always tagging along. Now that she's outgrown both him and her pigtails. the prospect of spending two weeks on tour with the childhood crush who broke her heart isn't exactly enticing. Except now Miles seems interested. Very interested. And no matter how hard Aimee tries to resist him, her crush is definitely making a comeback. But everyone knows that falling for a heartthrob is a backstage pass to heartbreak…
I was extremely excited when I got this book for review, mainly because I love all of Entangled Teen books, but now they have this genre called Crush. As soon as I was accepted to read this one, I grabbed my Kindle and started reading it right away. Which when I'm excited about a book, I tend to do and normally it doesn't take me long to finish them, which in this case happened. Aimee and the Heartthrob took me two days to read and I loved every single minute of it.
Really loved how light this read was and it was a perfect fit for me due to that fact. I've been reading some heavy books lately and this one was light and fluffy, just what the book doctor ordered. The characters in this story are so fun and come on, you can't say you wouldn't want a rock star boyfriend, well at least I know I can't. It was something I always thought of when I was the age of these fantastic characters. I haven't read a book like this one in a long time, one that grabs your attention with the first line and doesn't let you go till the last.
The musical references in this book are also another great thing, one that I gravitated toward. The author really knows music and you can tell that through her words. I have one complaint about the book though, as I was reading I got a feeling that the characters were a bit younger than they were thought to be. Honestly though, that is a small thing compared to how spectacular this book really is.
I can't wait to read more from this author and more from Entangled's new Crush line. I must also say that Aimee and the Heartthrob is a 2015 must read!! If you haven't gotten your hands on it yet, you need to go get your copy now. But be warned...you won't want to put it down once you start reading.
I'm giving Aimee and the Heartthrob an Ali's Bookshelf rating of...
Plot: 20/20
Writing: 20/20
Creativity: 20/20
Characters: 20/20
Ending: 10/10
Cover: 10/10
This book is easily the best book I've read this year so far!!
Here at Ali's Bookshelf we accept books in exchange for a honest review. The book above came from the publisher through Netgalley. We also use Amazon Affiliate links at times