Alright, Right up my Alley is a post that I used to do here on the blog, it was mainly a discussion post and I created it, sort of titling it as a play off my name. Anyway, I'm thinking of bringing this back, but going to change it up a bit.

Right up my Alley is going to be a post where I highlight something I saw during the week that peaked my interest. It could be a blog, piece of jewelry, something in the letter writing community, or even a book. Mainly I'm going to start showcasing other things in my life that I enjoy. Right Up My Alley will be a regular post here on Ali's Bookshelf and will be posted on Saturdays.
This week I've seen several things that peaked my interest, but mainly this week I participated in Bloggiesta, this isn't something really new to me. I've participated in a lot of them in the past several years, what I found different this time though, was the new blogs and bloggers that I got to chat with. I headed over to each of their blogs and made sure to check out their content, which is something I always do before I follow.
The best part was that I found a few that I'm really enjoying and wanted to share a few of them with you.
The Bookkeeper's Secrets -
The thing that really caught my attention with this blog is her content. One of which had me staring at my screen. Bookish travel guide post! Yep that's what I said, bookish travel guide. She shows us places that are in books. The images are beautiful and drew me into the blog and made me want to see what other content she has.
Books With Lucy
- This blog is adorable mixed with great content. Yep I'm being a content whore today. I always look for great content when following blogs and this one has fantastic posts. I really love how when you're reading the posts you can hear the blogging voice coming through.
Book That Caught My Attention:
I finally got to see the Me Before You movie trailer and that reminded me that I own this fantastic book and haven't read it yet. So this is my book addiction this week and next. I'm going to start reading this one this weekend, hopefully. I have two others to finish first though, but will diffidently be reading this next week, if not sooner.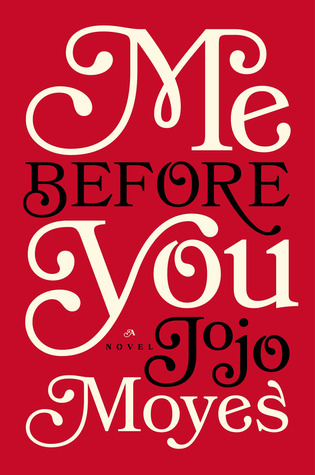 Lou Clark knows lots of things. She knows how many footsteps there are between the bus stop and home. She knows she likes working in The Buttered Bun tea shop and she knows she might not love her boyfriend Patrick. What Lou doesn't know is she's about to lose her job or that knowing what's coming is what keeps her sane. Will Traynor knows his motorcycle accident took away his desire to live. He knows everything feels very small and rather joyless now and he knows exactly how he's going to put a stop to that. What Will doesn't know is that Lou is about to burst into his world in a riot of colour. And neither of them knows they're going to change the other for all time.
As you all have noticed lately, I'm a bit obsessed with writing letters. I joined a pen pal group and everything. Psst...don't tell, but I seriously have over 10 pen pals now. Oh lordy that's a lot! Anyway, I found a few etsy shops that I'm now obsessed with as well, due to the whole pen pal thing.
Paper Ivy is now one of my all time favorites, they have the most beautiful stationary and I can't wait to order my own from them. (Can't do so till after my wedding, but I will own some!)
OohLaLaLetters
- is another one of my favorites due to the beautiful paper and cards.
Now I want to showcase one of the bookish Etsy Shops!
Coreographies
is AMAZING! Her jewlrey is fantastic, she has necklaces that are bookshelf's! Need I say more.
So that's it for this weeks Right Up My Alley, I hope you enjoyed this post and the changes I've made to it. Thanks and I hope you all have a great weekend.