Review: The Assassin's Curse by Cassandra Rose Clarke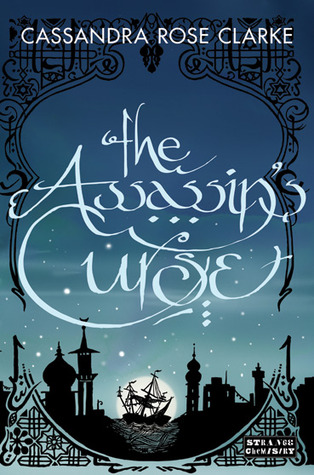 Title: The Assassin's Curse
Author: Cassandra Rose Clarke
Publisher: Strange Chemistry
Published: October 2nd 2012
Series: The Assassin's Curse Series
Format: Paperback
Ananna of the Tanarau abandons ship when her parents try to marry her off to another pirate clan. But that only prompts the scorned clan to send an assassin after her. When Ananna faces him down one night, armed with magic she doesn't really know how to use, she accidentally activates a curse binding them together. To break the spell, Ananna and the assassin must complete three impossible tasks--all while grappling with evil wizards, floating islands, haughty manticores, runaway nobility, strange magic...and the growing romantic tension between them.
First off I want to start this review off by saying a huge thanks to the lovely Catriona, over at Little Book Owl. She introduced me to these books by her talking about them on her
Youtube channel
. She was so excited about the series and I knew I had to have them. So when she posted that they would no longer be in print, my lovely mom and I went over to Amazon and got our copy right away. I was super excited to read them both, so I added them both to my Bout of Books TBR list and marathoned both of them.
But anyway, let's talk about this fabulous book shall we? The Assassin's Curse is by far one of my favorite books that I have read this year, followed by the other book in this series of course. I loved so much about this book, the plot and it's characters are perfection. The dialogue between Ananna and Naji had me laughing at wanting to punch both characters at times. All of the elements that I look for in a book were present in The Assassin's Curse.
I also really liked that the ending wasn't predictable to me, in this book I wasn't sure what was going to happen next and that to me makes a fantastic book. Ananna is a character that I really connected with, she's thrown into a situation and is strong enough to figure out how to deal with it. I loved that about her. Time after time she proves to the readers of the book that she is the strong one and she's not even the Assassin.
My favorite part of this book was the reason he has to protect her, it was very creative of this fantastic author and not something I've seen in many books. I also really loved how the author described everything, it was if I was there running right next to Ananna and Naji the whole time.
Cassandra Rose Clarke has become one of my favorite authors now, her way with words and pulling a reader in isn't something us readers see every day. I for one can't wait to see what she does next and will be picking up every book she writes. I highly recommend this book to any fantasy YA reader out there, like I said above it's became one of my favorites that I've read this year.
With all that was said above, I'm pretty sure it's obvious what rating I'm going to give this book, but for those that think otherwise. I'm giving The Assassin's Curse an Ali's Bookshelf...
Plot: 20/20
Writing: 20/20
Creativity: 20/20
Characters: 20/20
Ending: 10/10
Cover: 10/10
Here at Ali's Bookshelf we accept books in exchange for a honest review. However, the book above was one that I bought and decided to review. We also use Amazon Affiliate links at times.