It's Monday! What Are You Reading is hosted by Book Journey!
It's that time again, I swear I hope this year doesn't go as fast as last year. It already seems like it's going to though. Anyway, today is Monday and it's time to share what I'm reading this week. I didn't finish any books last week, it was just really busy around here. Below you will find the two books I'm reading at the moment and plan to hopefully finish this week.
Pivot Point by Kasie West
(I must say I'm loving this book so far
Knowing the outcome doesn't always make a choice easier... Addison Coleman's life is one big "What if?" As a Searcher, whenever Addie is faced with a choice, she can look into the future and see both outcomes. It's the ultimate insurance plan against disaster. Or so she thought. When Addie's parents ambush her with the news of their divorce, she has to pick who she wants to live with—her father, who is leaving the paranormal compound to live among the "Norms," or her mother, who is staying in the life Addie has always known. Addie loves her life just as it is, so her answer should be easy. One Search six weeks into the future proves it's not. In one potential future, Addie is adjusting to life outside the Compound as the new girl in a Norm high school where she meets Trevor, a cute, sensitive artist who understands her. In the other path, Addie is being pursued by the hottest guy in school—but she never wanted to be a quarterback's girlfriend. When Addie's father is asked to consult on a murder in the Compound, she's unwittingly drawn into a dangerous game that threatens everything she holds dear. With love and loss in both lives, it all comes down to which reality she's willing to live through... and who she can't live without.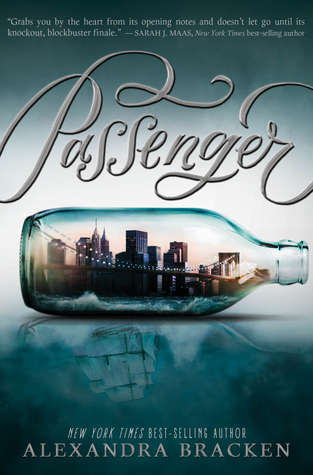 Passenger by Alexandra Bracken
(I started this one last week, need to finish it.)
passage, n. i. A brief section of music composed of a series of notes and flourishes. ii. A journey by water; a voyage. iii. The transition from one place to another, across space and time. In one devastating night, violin prodigy Etta Spencer loses everything she knows and loves. Thrust into an unfamiliar world by a stranger with a dangerous agenda, Etta is certain of only one thing: she has traveled not just miles but years from home. And she's inherited a legacy she knows nothing about from a family whose existence she's never heard of. Until now. Nicholas Carter is content with his life at sea, free from the Ironwoods—a powerful family in the colonies—and the servitude he's known at their hands. But with the arrival of an unusual passenger on his ship comes the insistent pull of the past that he can't escape and the family that won't let him go so easily. Now the Ironwoods are searching for a stolen object of untold value, one they believe only Etta, Nicholas' passenger, can find. In order to protect her, he must ensure she brings it back to them— whether she wants to or not. Together, Etta and Nicholas embark on a perilous journey across centuries and continents, piecing together clues left behind by the traveler who will do anything to keep the object out of the Ironwoods' grasp. But as they get closer to the truth of their search, and the deadly game the Ironwoods are play­ing, treacherous forces threaten to sep­arate Etta not only from Nicholas but from her path home . . . forever
I might read more though, we shall see. If I do I'll add it to the list here if I start another book. What are you reading this week, or this month? Care to share, leave a comment below and let me know. I would love to see what you're reading.