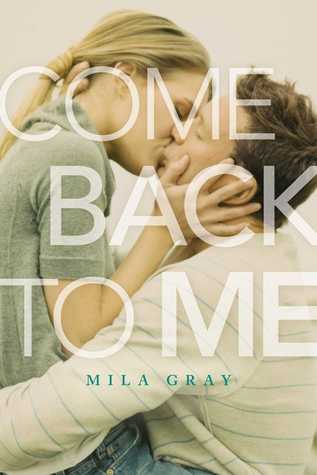 Title:
Come Back To Me
Author:
Mila Gray
Publisher:
Simon Pulse
Format:
Paperback ARC
Published Date:
December 8th 2015
Pages:
352 pages
ISBN #:
1481439650
In this heart-wrenching tale of love and loss, a young Marine and his best friend's sister plunge into a forbidden love affair while he's home on leave. When a Marine Chaplain knocks on her door, Jessa's heart breaks—someone she loves is dead. Killed in action, but is it Riley or Kit? Her brother or her boyfriend… Three months earlier, Marine Kit Ryan finds himself back home on leave and dangerously drawn to his best friend Riley's sister, Jessa—the one girl he can't have. Exhausted from fighting his feelings, Kit finally gives in, and Jessa isn't strong enough to resist diving headfirst into a passionate relationship. But what was just supposed to be a summer romance develops into something far greater than either of them expected. Jessa's finally found the man of her dreams and Kit's finally discovered there's someone he'd sacrifice everything for. When it's time for Kit to redeploy, neither one is ready to say goodbye. Jessa vows to wait for him and Kit promises to come home to her. No matter what. But as Jessa stands waiting for the Marine Chaplain to break her heart, she can't help but feel that Kit has broken his promise… Riley or Kit? Kit or Riley? Her brother or her boyfriend? Who's coming home to her?
Tear Jerker and the best book I read of 2015! Those are the descriptions I would give this book first and foremost. After reading the prologue from this book though I wasn't sure I wanted to read the book, only because of the tears that were running down my face. The emotions that author Mila Gray was able to pull out of me through her words is something that I wish every book could do, sadly it doesn't happen often. It did with Come Back To Me though and I couldn't get enough of the characters.
I cried when Jessa cried and laughed when she did. I fell for Kit right away and I think this book really hit home for me, seeing as my brother is a Marine himself and I know what it feels like to watch your brother leave to head over seas. It's not something I would ever want to do again. Luckily my brother has finished his tours and is out of the Marines, though they say once a Marine always a Marine.
The best part about this book isn't that it's all about the military or the romance, it also shows how life is when someone is overseas, how the family has to cope. It also gives you a glimpse at PTSD and how it effects the family of the person with it. That part really stuck with me and I hope others will see that as well. I will say I was scared for Jessa in this book a few times and without giving anything away, I was scared for Kit too.
The only thing I have to say that is bad about this book isn't truly bad, it's that I wanted more of these characters after the last page. They stuck with me for weeks after reading and that's why it's taken me so long to actually write my review. I can't wait to read more from this fantastic author and honestly I would read anything written by her. Especially if she can get the reactions out of me like she did with this one.
If you like love, friendship and a great contemporary read then Come Back To Me by Mila Gray is the perfect book for you. If you haven't read this book, I recommend you picking up today and reading it. Also if you're going to read it, please grab a box of tissues before you start the book, because the authors vivid descriptions will have you crying your eyes out.
There are so many that I love from this book, but this one gave me chills when I read it.



"Does he make you see stars?' he asks in a low voice. 'Does he call you his north star? Because that's what you are to me. You're the reason I made it home."
I'm pretty sure you already know what rating I'm going to give this one, but here it is anyway...

Here at Ali's Bookshelf we accept books in exchange for a honest review. The book above came from the publisher. We also use Book Depository Affiliate links at times.