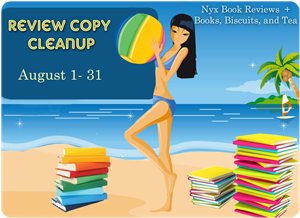 I am so excited its finally time for Review Copy Cleanup. I have so many review books and I got a lot of them read during the last Review Copy Cleanup. So I'm hoping I can do the same thing again! If you still want to sign up you can till the 15th of August. Sign up here!! So it's time to have fun and get some reading done!!
My Goal's for this Review Copy Cleanup!!!
I have 7 books that I would like to read and 3 ebooks that I would love to read this month as well. Not sure I can get all of them done but I'm going to push myself and see if I can! That is my goal for this month. So here are the books:
(Total pages: 1906 pages)
Alright so there is my goals for this month and Review Copy Cleanup! I'm going to do daily updates or maybe weekly updates not sure yet on the blog. I will be doing daily updates on Twitter though!!! If you want to follow me on Twitter @Alisbookshelf and see how well I do that would be awesome.
Good luck everyone!!! And as always Happy Reading!